Create Valuable Applications by Using the Earth Observation Data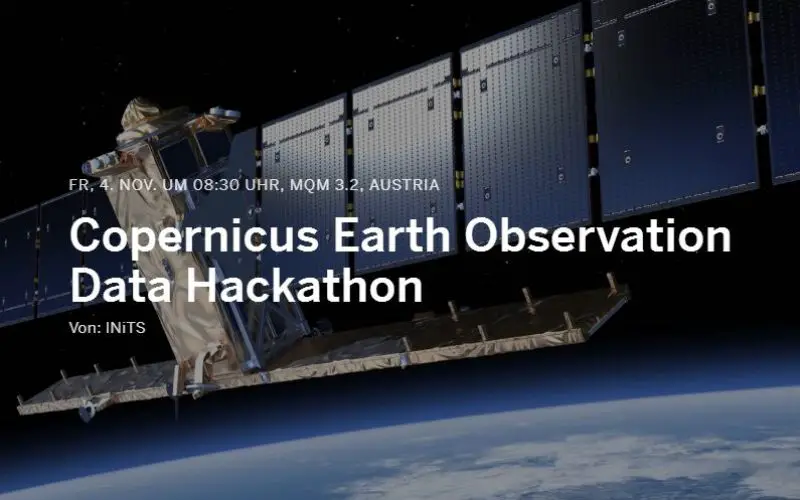 Create valuable applications by using the Earth observation data
4 & 5 of November 2016
Copernicus is a European system for monitoring the Earth (www.copernicus.eu) . It collects data from multiple sources: earth observation satellites and in situ sensors such as ground stations, air-borne and sea-borne sensors. Data is related to following fields:
Atmosphere Monitoring
Marine Environment Monitoring
Land Monitoring
Climate Change
Emergency Management
Security
Since 2016, the Copernicus open data is available in Austria. The aim of the hackathon is to generate exciting crowd-sourced use cases of the data.
Hackathon Challenge
This Hackathon challenge is about exploiting datasets from the Copernicus programme. We will concentrate on the Sentinel-1 and Sentinel-2 satellites (https://sentinel.esa.int/web/sentinel/missions), which are delivering data in the microwave (radar) and visible (optical) parts of the spectrum with an unprecedented high rate of information in the order of several Terabytes of raw data per day. This data was used for monitoring the Earth's surface and a range of applications (marine monitoring and surveillance, motion risk mapping, land monitoring, land cover mapping, and support in humanitarian aid).
The challenge is to create application including information from these two Sentinel satellites:
Do you have a ground-breaking idea that addresses a current environmental or societal problem?
How would you use Sentinel data to create new information-rich products?
Which application of Sentinel data could you develop that could be commercially viable?
How to combine and exploit Open Data together with Earth Observation data to generate additional benefit?
The challenge will be technically enabled by the Earth Observation Data Centre (EODC) – an Austrian company dedicated to foster the use of earth observation data, based in Vienna. It is a public-private partnership (PPP) of Austrian universities, companies, the state meteorological service and individuals with currently 15 partner institutions from 8 different countries (https://www.eodc.eu).
EODC will supply the following infrastructure and datasets for this challenge: Virtual Machines (Linux) with access to a complete archive of Sentinel-1 and Sentinel-2 datasets, free and open toolboxes for the (pre-) processing of Sentinel data (https://sentinel.esa.int/web/sentinel/toolboxes), Geographic Information System (GIS) software (http://www.qgis.org), and links where to find Open Data for Austria (https://open.wien.gv.at/site/open-data).
To get familiar with the data, visit the Sentinels Scientific Data Hub ( https://scihub.copernicus.eu/ ), where (after registration) products are available for free, including a user guide. There you can find a description of how to perform advanced search or how to use the APIs/perform batch scripting.
The expected outcome is a working software prototype or application.
Mentors
Mentors from EODC and European Space Agency will be available throughout the 2 days of the hackathon.
Prizes: $6,000 in prizes
Why participate?
Create meaningful applications that have an impact for society
Engage with other people interested in topics such as climate change, geography, big data, open data
Win appealing and exciting prizes