Accuracy Comparison of Publicly available DEMs and LiDAR DEM for Coastal Flood Risk Assessments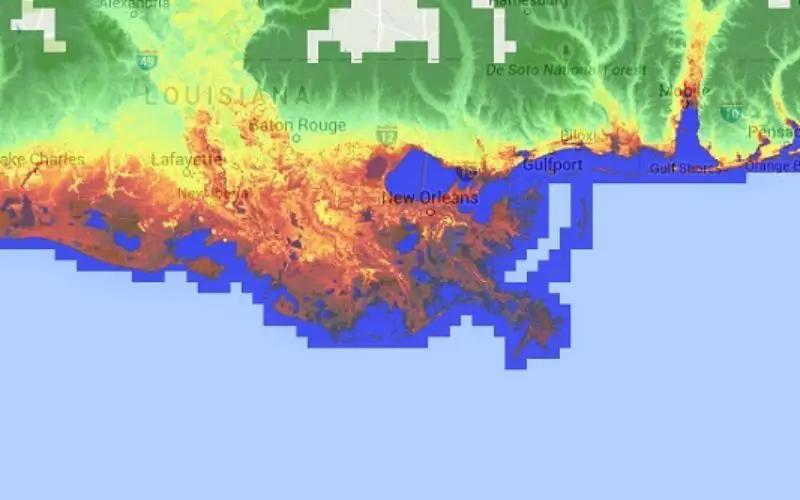 Coasts are experiencing the adverse consequences of hazards related to climate change and sea level rise and will be exposed to increasing risks of coastal flooding. Ten percent of the world's population lives in the 10 m Low Elevation Coastal Zone. This share covers two percent of the world's land area. This emphasizes the need for coastal flood risk assessments to which GIS (Geographic Information System) components and mapping can be incorporated.
There are many (online) tools to estimate the impact of sea level rise on land area. One can visualize flood extents by setting an elevation relative to sea level in the chosen application such as Globalfloodmap and the Wikipedia Sea Level Rise Explorer. These tools are mainly used to indicate impacts on a global scale. As of yet it is still unclear and not easy to estimate to what extent these tools and its underlying data can be used in other (smaller) scaled spatial analyses.
The study by Bas van de Sande and et. al. "Sensitivity of Coastal Flood Risk Assessments to Digital Elevation Models" conceptualizes GIS approach for coastal flood risk mapping sensitivity to use of publicly available DEM and LiDAR DEM.
Most coastal flood risk assessments are based on a conceptual risk approach where Digital Elevation Models (DEM) is used in order to estimate the flood hazard for coastal zones according to projected water levels. The resolution and accuracy of a DEM are critical in a flood risk assessment, as land elevation largely determines whether a location will be flooded or will remain dry during a flood event. Especially in low lying deltaic areas, the land elevation variation is usually in the order of only a few decimeters, and an offset of various decimeters in the elevation data has a significant impact on the accuracy of the risk assessment.
Commonly publicly available DEMs like ASTER GDEM (Advanced Spaceborne Thermal Emission and Reflection Radiometer) 30 m. horizontal resolution data set and SRTM DEM (Shuttle Radar Topography Mission) 90 m. horizontal resolution data set are used for coastal flood risk assessments, although the resolution and accuracy of these data sets are relatively low.
A case study for Lagos State (Nigeria) was conducted to show the effects on flood hazard and flood risk estimations by comparing flood risk estimations based on two publicly available DEM datasets (ASTER GDEM and SRTM DEM) to flood risk estimations based on LiDAR (Light Detection and Ranging) DEM estimations. Unlike the publicly available DEM datasets the LiDAR DEM is a DTM. The LiDAR survey was flown with a plane sensor platform in May 2009 by the PBH Group (based in Canada). The nominal point density of the bare earth point data is 2 points per m2, and the provided accuracy assessment reported a root mean square error (RMSE) of less than 1 cm. The bare earth point data was processed to a grid with a horizontal resolution of 5 m. by natural neighbor interpolation techniques. This processed grid was used for the flooding simulations. With a Root Mean Square Error of 0.10 m. and a Mean Error of 0.00 m. of this grid compared to the bare earth points, the deviations of the 5 m. resolution LiDAR DEM were considered acceptable.
In this case study coastal flooding is approached from a "bathtub" approach. In order to model hydrological connectivity, you can simulate inundation by selecting the values of your DEM which have a lower value than the projected water level. The simulation can be executed in two manners; with and without surface connectivity. With surface connectivity only the grid cells which are lower than the projected water level and which are connected to an adjacent flooded grid cell or open water indicate inundation. Simulation with surface connectivity is more appropriate because a coastal flood only has direct influence on the adjacent land zone.
Coastal flood risk assessments can be performed at different horizontal and vertical scale levels (respectively the geospatial scale and the elevation scale). Assessments differ from estimations of the share of the global population living in low-lying deltas to estimations of the probability of a flood in a small harbor. Two case study scales were included in order to reveal the effects of usage of the public DEMs on coastal flood risk assessments and to give an indication of the suitability for use of these public datasets. Lagos State scale and Lagos City scale represent the geospatial scales with accompanying elevation scales; respectively 5 meter Low Elevation Coastal Zone (LECZ) and storm surge water levels (see Figure 4). These two case study scales were chosen as they have been used relatively often in past executed coastal flood risk assessments based on both publicly available DEM datasets.
This study shows that attention should be paid in the application of publically available DEMs to support coastal flood risk assessments at different geospatial and elevation scales. In this case study, a comparison was made between public DEMs and very accurate vertical elevation measurements (LiDAR DEM). It can be concluded that the resulting flood risk can deviate significantly in such magnitudes that ASTER GDEM and SRTM DEM do not meet the accuracy requirements for the coastal flood risk assessment applied on Lagos State. Both ASTER GDEM and SRTM DEM overestimate the land elevation and, therefore, underestimate the flood hazard and associated risk. The overestimation is mainly due to the sensor techniques used in both publicly available datasets.
Source: van de Sande, B.; Lansen, J.; Hoyng, C. Sensitivity of Coastal Flood Risk Assessments to Digital Elevation Models. Water 2012,4, 568-579.