Global Mapper v17.1 LiDAR Module Now Available
Global Mapper v17.1 LiDAR Module Now Available
With the New Custom Feature Extraction Tool
Blue Marble Geographics is pleased to announce the immediate availability of an upgrade to the Global Mapper LiDAR Module. Offered in conjunction with the recent release of Global Mapper version 17.1, the latest edition of the module includes functional enhancements and performance improvements that have been designed to improve the quality and utility of LiDAR and other point cloud data.
Global Mapper users can activate the LiDAR Module from the Module/Extension License Manager, which is accessed from the Help menu in the software. For those wanting to evaluate the capabilities of the module, a 14-day trial is available.
New and updated functionality includes a powerful new Custom Feature Extraction Tool for creating 3D line and area features using Global Mapper's new perpendicular profile tool; a new toolbar button for quickly assigning the ground classification to selected points; and support for customizing the groups to which LiDAR classifications belong.
By leveraging all of the new tools introduced into the standard version of Global Mapper with the release of version 17.1, the LiDAR Module offers significantly enhanced point cloud management and processing capability. The new Perpendicular Profile tool, which generates a scrollable series ofprofile views perpendicular to a drawn or selected line feature, enables the new Custom Feature Extraction Tool in the LiDAR Module. This powerful function offers the means to assign 3D points or vertices that correspond with recognizable objects such as curbs, guardrails, above-ground pipelines, or building rooflines. These points are ultimately connected and extracted as 3D vector features.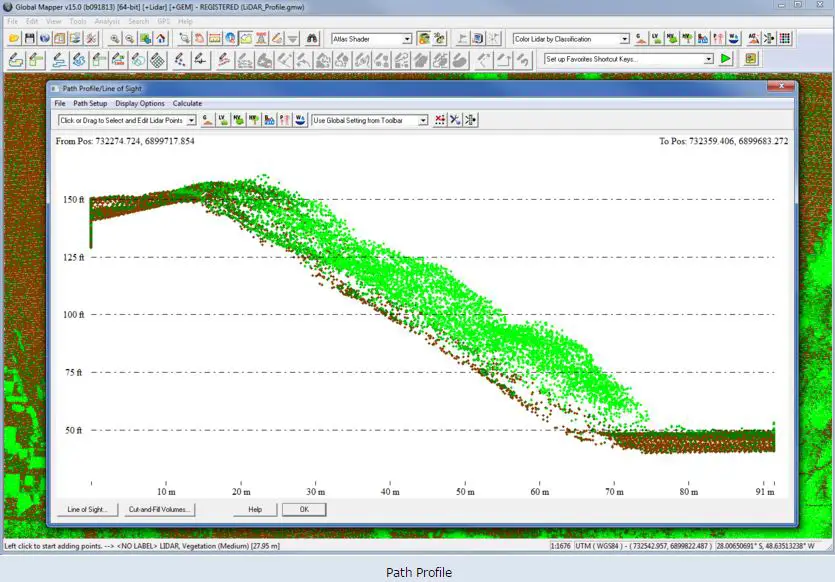 The Global Mapper LiDAR Module is a must-have for anyone working with terrestrial or airborne LiDAR as well as other point cloud datasets. As an optional add-on to the software, it provides numerous advanced data processing tools, including automatic point cloud classification; feature extraction; cross-sectional viewing and editing; significantly faster terrain surface generation; and much more.
To introduce the latest version as well as the new features and functions in the standard version of Global Mapper, Blue Marble Application Specialists will be presenting a free webinar entitled "What's New in Global Mapper 17.1" on Thursday February 25th at 2:00pm EDT. Registration is required and space is limited so be sure to sign-up today.
To download a trial copy of Global Mapper, visit www.bluemarblegeo.com/products/global-mapper.php