RAMTeCH Optimizes GIS Data Quality with gReady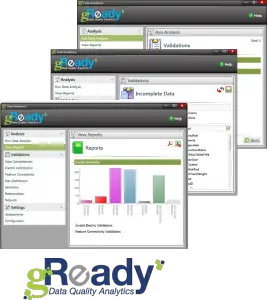 RAMTeCH Software Solutions, Inc., a global leader in spatial enterprise solutions, introduces its gReady™ data quality analytics software solution to help uncover, prioritize and correct operational data quality errors in Geographic Information Systems (GIS) by embedding routine checks directly into daily business workflows and  between operational systems.
As the primary source for all asset facility and land data, an organization's GIS must be in a state that is capable of integrating with other enterprise systems, while also supporting analytics and reporting.  By leveraging gReady to review of GIS data prior to integration projects, organizations can streamline the implementation of work flow applications that require absolutely clean asset and operational data such as Outage Management Systems (OMS), Distribution Management Systems (DMS), and Asset Systems for electric and gas utilities, and Business Support Systems (BSS) and Operational Support Systems (OSS) for telecommunications companies.
gReady performs comprehensive GIS network data quality validations and compiles in-depth visual reports that identify specific data conditions by feature class and error type.  Generating configurable and easy-to-understand scorecards and action plans, gReady prioritizes data errors by importance, allowing a business to more effectively and proactively deliver clean data to downstream systems where it has the biggest impact. In addition, with gReady's routine checks embedded directly into workflows, users receive ongoing intelligence about which data quality measures will drive the greatest operational improvement.
"With increasing regulatory and competitive pressures, data quality issues can pose significant risks and costs to organizations," said Darrell Rhodes, senior vice president – North America, RAMTeCH.  "Our gReady solution thoroughly examines an organization's GIS from head to toe, identifying critical data issues. The end result is a clear picture of what it will take to ensure the completeness and accuracy of their systems. With GIS as the foundational technology for many organizations, gReady is an ideal solution to ensure GIS data fully supports their business needs."
Leveraging Esri's technology platform as a strong foundation, gReady features an expansive configurable suite of more than 600 analytic checks that test the completeness, connectivity and relationships required for effective asset management and operations.  Reports are visual allowing staff to quickly understand and act on diagnostic insights. In addition, gReady's intuitive interface simplifies navigation and the program's learning curve, accelerating a higher return on investment.
Organizations interested in receiving a demonstration of gReady today, can send an email to business-americas@ramtech-corp.com, or visit RAMTeCH Software Solutions at Esri's booth #2254 at DistribuTECH, Feb. 9-11, 2016 in Orlando, Fla.