SuperGIS 3D Earth Server 3.2 Officially Launched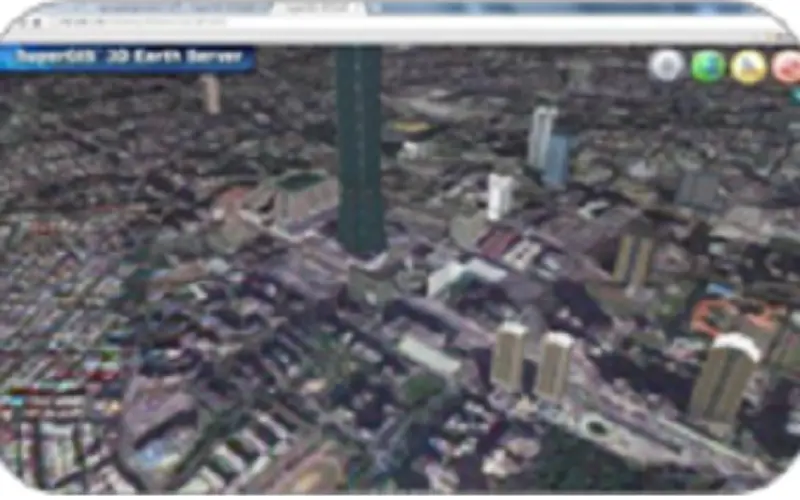 Supergeo Technologies, the leading global provider of complete GIS software and solutions, officially released SuperGIS 3D Earth Server 3.2, to assist enterprises in managing, integrating, publishing and displaying geographic data and 3D models in an innovative way.
SuperGIS 3D Earth Server 3.2 is the GIS software designed to publish and overlay terrain data, 3D models and so forth with spatial data, as well as to display the spatial data in 3D view. The GIS software can help users better explore geographic space and the spatial relation among data.
Integrating Cloud concept for straightforward data publishing and management, SuperGIS 3D Earth Server 3.2 allows users to easily distribute and deploy data. Administrators not only can effortlessly publish data as 3D map services over the Internet, but also apply browsers to access the published data, services, and websites without extra plug-ins.
As for client side, front-end users can directly view and manipulate the services in 3D environment, including Query Feature, Position Query Results, Share Screenshot, etc. In this way, excellent interaction between users and maps can be obtained to further examine current GIS-related problems to get best solutions to spatial issues.
To know the newest product or download free trial, please visit http://www.supergeotek.com/ProductPage_3DEarth.aspx
Introduction video: https://www.youtube.com/watch?v=oCidggbbBpM&list=UUZif2ttCAyr0Z-LUUrd6aKQ
Demo site with Google Chrome: http://sgs.supergeo.com.tw/SeaLevel/SGSEarth.htm
#  #  #
About Supergeo
Supergeo Technologies Inc. is a leading global provider of GIS software and solutions. Since the establishment, Supergeo has been dedicated to providing state-of-the-art geospatial technologies and comprehensive services for customers around the world. It is our vision to help users utilize geospatial technologies to create a better world.
Supergeo software and applications have been spread over the world to be the backbone of the world's mapping and spatial analysis. Supergeo is the professional GIS vendor, providing GIS-related users with complete GIS solutions for desktop, mobile, server, and Internet platforms.
Marketing Contact:
Sarah Liu
Supergeo Technologies Inc.
2F., No. 324, Sec. 1, Neihu Road, Taipei, 114, TAIWAN, R.O.C.
TEL:+886-2-2659 1899
Website: http://www.supergeotek.com
Email: sarahliu@supergeotek.com