Register for IIRS Online Courses on Remote Sensing, GIS & GNSS Applications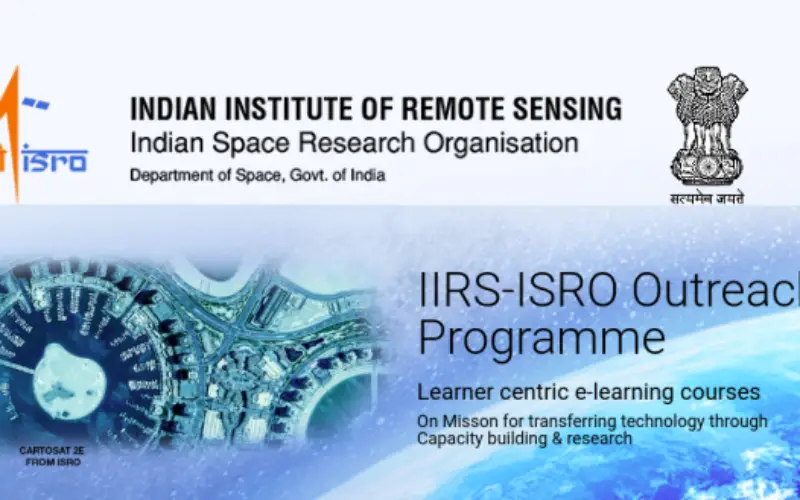 About IIRS
The Indian Institute of Remote Sensing (IIRS) foundation, is a constituent unit of Indian Space Research Organization (ISRO), Department of Space, Govt. of India. Since its foundation in 1966, IIRS is a key player for training and capacity building in geospatial technology and its applications through training, education and research in Southeast Asia. Training and capacity building programmes of the Institute are intended to meet the necessities of Professionals at working levels, new alumni, scientists, the scholarly world, and chiefs.
IIRS Outreach Programme
To support distance learning, Indian Space Research Organisation, Government of India has launched dedicated communication satellite called EDUSAT in 2004. 

The initial focus of IIRS was to use EDUSAT/INSAT 4CR satellite for distance learning or online courses but extended the scope to use internet so that access to large number of institutions/universities /individuals with little cost the user. Today this programme is linking more professional and user departments and ministries in the country to develop their skills in geospatial technologies and its applications.
The IIRS online courses or outreach programme is being conducted through the following two major modes:
Live and Interactive classroom sessions (also known as EDUSAT) and
E-learning based online courses.
This is a unique opportunity for learners to enhance their knowledge at the comfort of their respective working places. The live classroom session is being conducted during 4:00 PM to 5:30 PM on daily basis through state of art studio facility set up in the Institute.
Programme Reception
The programmes under IIRS online courses can be received through e-class platform of IIRS-ISRO using internet connectivity. No specific hardware /software required. However, it is recommended good internet connectivity at the user end.
Who can Participate?
Undergraduate/Postgraduate students, Researchers
Faculty/Professional Participants, Research Institutions and Academia
Course Study Material
Important Links
Course updates and annual course calendar details will be available on – https://www.iirs.gov.in/EDUSAT-News
To participate in this programme the interested organisations/ universities/ departments/ Institutes have to identify the Coordinator at their end. The identified coordinator will register online his Institute as a nodal centre in

IIRS website

All the participants have to register online through the

registration page

by selecting his/her organisation as a nodal centre.
The Coordinator is required to approve the participants from his/her institute for each course
Course Fee
NIL (There is no Course fee for live and interactive course).
Award of Certificate
Award of certificate will be given to the candidates full filling below requirements –
WorkingProfessionals: Basedon70%attendance and submission of assignments.
Students: Based on 70% attendance and online examination
Download Outreach Programme Brochure
Download Annual Course Calendar – 2020
You may be interested in – Trivim – A Free and Open Source Software for 3D Street Model Generation