CASIS Re-Issues RFP in the field of Remote Sensing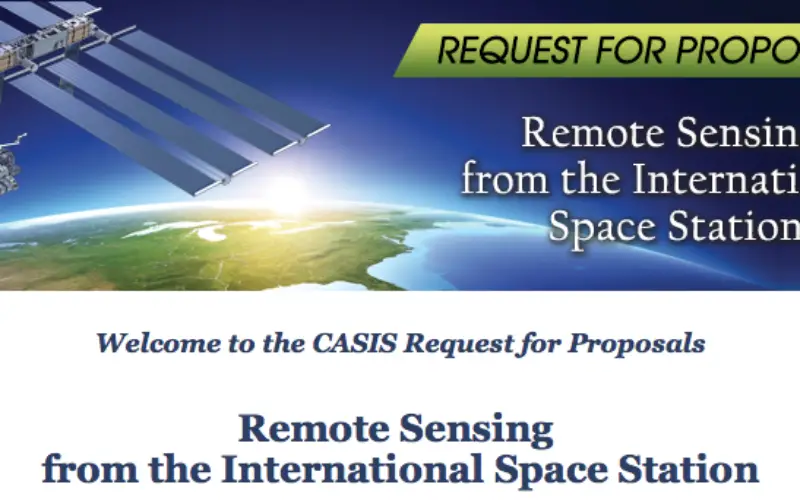 The Center for the Advancement of Science in Space (CASIS), the nonprofit organization managing research aboard the International Space Station (ISS) U.S. National Laboratory, re-issued a solicitation for proposals in the field of remote sensing.
This RFP will attract both experienced and new-to-space investigators for the development and deployment for testing (for 90 days or less) of sensors or instrumentation for remote sensing or for the utilization of existing hardware for remote sensing on the ISS U.S. National Laboratory.
Proposals should seek to use the National Lab for development of sensors and/or use of existing hardware for studies of Earth, Earth's atmosphere, and astronomy and planetary science with the goal of benefiting life on Earth. CASIS will support this process through grant funding, facilitation of service-provider interactions and flight coordination to and from the International Space Station U.S. National Laboratory.
"This solicitation will take advantage of the unique vantage point from the ISS to observe and investigate our planet," said CASIS Director of Portfolio Management, Warren Bates. "It will also provide researchers yet another opportunity to access our nation's only orbiting laboratory while further diversifying CASIS's portfolio of research capable of enhancing life on Earth."
This solicitation has changed from the previous version issued on October 17, 2013. 
Letters of Intent will not be accepted before February 14, 2014 and must be submitted electronically by 5pm EST on February 21, 2014 via the CASIS solicitations website page.
For additional information about this RFP and step-by-step process please  visit