Farmonaut to Provide Its Services to Godrej Agrovet in Mapping 15000+ Farmer Fields
Farmonaut is all set to work with Godrej Agrovet to help them map more than 30000 hectares using its technology.
Farmonaut, a satellite-based crop health monitoring start-up with headquarters in Bangalore (India),  has recently announced its partnership with Godrej Agrovet to help it map over 15000 farmer fields and capture farm-level data for these fields. According to the spokesperson, Godrej has already mapped over 2500 hectares contributing to 1400 field pieces approximately.  They are targeting the mapping of over 30000 hectares by the end of the current month to monitor crop health, water stress, evapotranspiration, soil organic carbon, weather forecasting, etc., using the technology provided by Farmonaut.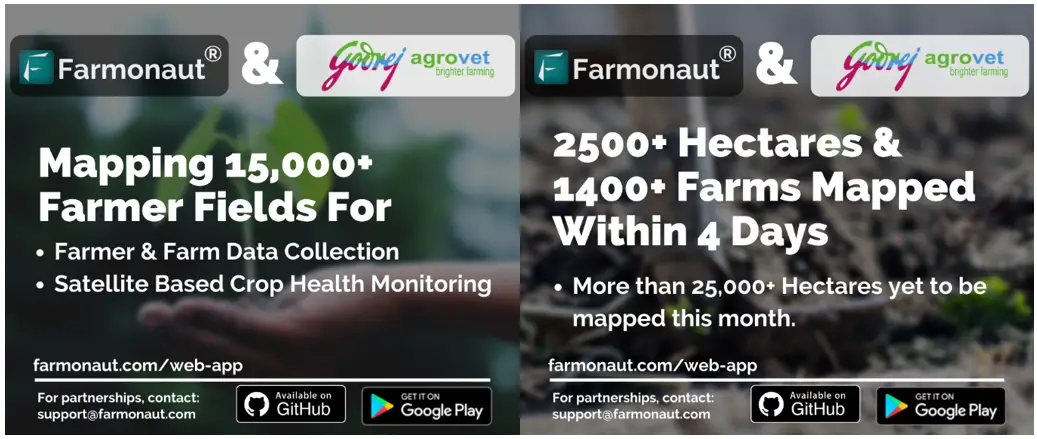 The founder & CEO of the satellite-based monitoring system announced the big news recently. He stated that "Farmonaut has made geotagging farmer fields more streamlined and a faster process. Our interconnected app ecosystem facilitates our clients to map fields through our android app and monitor, manage, and access data of the mapped fields through our robust and advanced web-app. This interoperability is a game-changer for organizations that find it difficult to map and manage fields at a faster pace. On top of this field mapping, our advanced app ecosystem will provide the latest and continuous satellite data of all the mapped fields to Godrej Agrovet to help them take farm-level actions well in advance. With several esteemed organizations already on-board and using our technologies, the emergence of remote sensing in agriculture is imminent." 
Farmonaut is not only using geospatial technology to give a detailed report out of the data pointers related to fields but also helping farmers to cut down on the investment required for healthy crop yield, and eventually enabling them to increase the yield. 
The start-up is already resolving one of the biggest challenges in the Indian agricultural ecosystem. Remote sensing technology is very popular to monitor farming fields, but it does not serve the purpose in India due to the cost attached with it. Farmonaut has come up with the most cost-effective solution to address the issue by enabling farmers to identify crop-related problems without compromising on the quality and providing a detailed analysis of the data in an easy format to understand. Even for a small scale farmer (field area less than 5 acres), the cost of 1 month of satellite monitoring is less than what one bottle of fertilizer/chemical costs. They help farmers monitoring their fields remotely through satellites by providing them with an analysis of crop health, vegetation water stress, and soil organic carbon content.
Media Contact
Farmonaut
akash@farmonaut.com
+916366026267
Farmonaut Technologies Pvt. Ltd.
No. 82-83-88, Borewell Road,
Opposite Post office, White Field,
Bangalore, Karnataka, Pin Code – 560048
Also Read-
3rd Edition of GIS Resources Magazine: Geospatial Technologies for Sustainable Agriculture Development