Esri and Leica Geosystems Supercharge Mobile Data Collection with ZenoCollector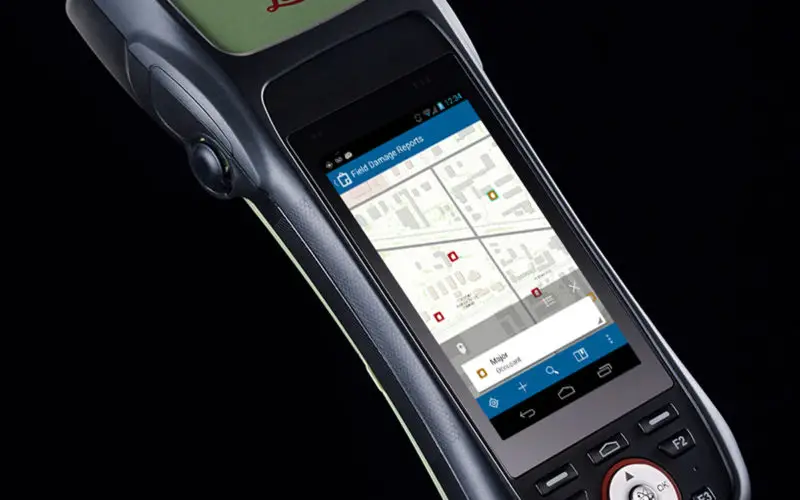 Rugged Precision Handheld, Powered by Collector for ArcGIS, Includes an ArcGIS Online Subscription
Esri Collector for ArcGIS, a configurable mobile app for collecting and editing data in the field, has combined with the Zeno 20, Leica Geosystems' ultra-rugged Android-based professional-grade handheld, in a new solution called ZenoCollector. ZenoCollector uses Collector for ArcGIS as its main user interface and comes bundled with an ArcGIS Online organizational subscription for one year.
"Esri and Leica Geosystems recognize that enterprises may have particular field data collection challenges that smartphones can't ideally meet," said Esri president Jack Dangermond. "We're excited to combine Collector for ArcGIS with Leica Geosystems' industry-standard surveying units to create a more rugged and accurate solution for the more exacting needs of organizations."
ArcGIS Online connects ZenoCollector to the ArcGIS platform, automatically synching field changes to enterprise information and giving everyone access to the latest data gathered in the field. Collector for ArcGIS also supports offline data collection. Any updates will be synchronized with the map once the user is reconnected.
"We're excited to raise mobile data collection solutions to the next level of precision and interoperability through rigorous connectivity between our survey-grade Leica Zeno series and Esri's GIS solutions," said Hexagon Geosystems President Juergen Dold. "This industry collaboration between Leica Geosystems and Esri is another joint commitment to make it easier for professionals around the world to capture, manage, and share their data, regardless if they're in the office or the field, without sacrificing precision or interoperability."
Although Collector for ArcGIS is most often used on smartphones, field crews may need higher precision that only a dedicated survey device can deliver. ZenoCollector contains a professional-grade Global Navigation Satellite System receiver that provides significantly higher position accuracies than GPS receivers on smart phones and other handheld GIS devices on the market. Leica's Zeno series devices are also fully waterproof, even with the latch open, perfectly suiting the requirements of organizations operating in wet environments that would stress the tolerances of consumer-grade mobile devices.
Visit esri.com/zenocollector to learn more about the ZenoCollector solution.
# # #
About Leica Geosystems
Revolutionizing the world of measurement and survey for nearly 200 years, Leica Geosystems creates complete solutions for professionals across the planet. Known for premium products and innovative solution development, professionals in a diverse mix of industries, such as aerospace and defence, safety and security, construction, and manufacturing, trust Leica Geosystems for all their geospatial needs. With precise and accurate instruments, sophisticated software, and dependable services, Leica Geosystems delivers value every day to those shaping the future of our world.
Leica Geosystems is a brand within Hexagon Geosystems, the complete reality-capture solutions provider. With a sharp focus on information technologies that capture, measure, and visualize data, Hexagon Geosystems' high-quality products and solutions create real digital worlds.
Leica Geosystems is part of Hexagon (Nasdaq Stockholm: HEXA B; hexagon.com), a leading global provider of information technologies that drives quality and productivity improvements across geospatial and industrial enterprise applications.