First Annual Commercial UAV Expo Gets Sky-High Marks from Industry Insiders
SPAR Point Group's Commercial Drone Show Boasts 120 Exhibitors & 1,500 Attendees
Commercial UAV Expo's launch October 5-7, 2015 was lauded as a huge success for precision measurement professionals who gathered for three days of education, networking, and buying and selling solutions at a conference and exhibition focused on the technology revolutionizing countless industries. More than 1,500 attendees from 30 countries attended the show, representing key growth markets for drones, including Surveying & Mapping; Civil Infrastructure;  Mining; Construction; Process, Power & Utilities; Precision Agriculture; Law Enforcement, Security and Search & Rescue (SAR).  The bustling exhibit floor had 120 exhibitors from 14 countries showcasing cutting-edge solutions including airframes, components, sensors, software and services.  The event took place October 5-7, 2015 at Caesars Palace in Las Vegas.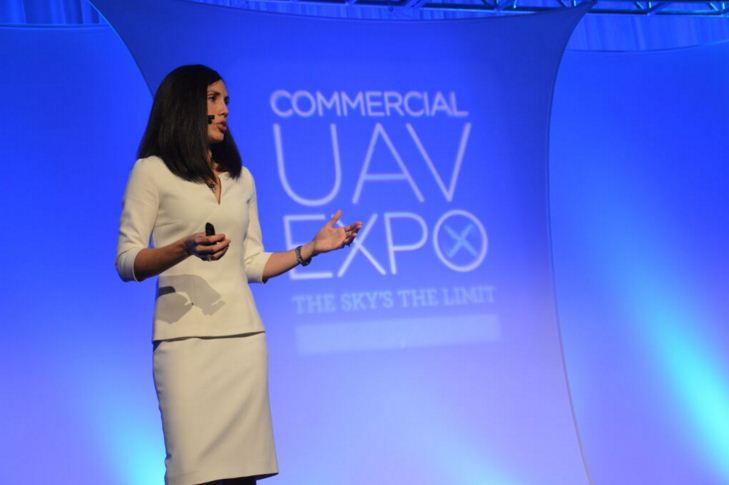 "Large-enterprise asset owners are eager to take to the skies" said Lisa Murray, Director of Commercial UAV Expo. "For many industrial applications, UAV technology has the potential to be a faster, safer, and more accurate way to collect critical data than other methods. As with any new technology, however, there are many questions around implementation and integration. Furthermore, there are regulatory hurdles as well as legal and insurance issues that need to be considered. The conference programming addressed these topics, providing attendees with the information they need to move forward."
Jason Nyberg, Senior Project Manager at engineering giant McKim & Creed, met his objectives for attending by gaining a better understanding of the technology through conference sessions, exploring the technology on the exhibit floor, and speaking with other professionals about what they're doing and how they're doing it. "It's been extremely valuable for me and certainly our company," said Mr. Nyberg. "We have a 333 (FAA exemption) and we need to figure out what we're going to do, how we're going to do it, how we're going to make money at it, and coming to Commercial UAV Expo has been a great opportunity to explore those things and advance our program."
The commercial aspect of the event and organizers' ability to draw large enterprise asset owners as a result resonated with exhibitors and differentiated the show from others in the space.
Jesse Kalman, Head of Business Development for exhibiting company Airware said, "Commercial UAV Expo has been a really great event for Airware. It's really differentiated from other events in that the focus is on commercial and enterprise use. It's really useful to have that concentration in one place. There's a great mix on the trade show floor of the right companies exhibiting and highly qualified representatives who are really active in the space and looking to do projects with us. It's been a great experience for us and we'll for sure be back next year."
Aerialtronics's Vice President for North America, Doug West, was in agreement about the professional make-up of the audience. "There are a lot more end-users here than at other shows. People are not selling to us, we're able to sell to them."
Kerry Garrison, COO of Multicopter Warehouse, sponsor of the Drone Cage Demonstrations at Commercial UAV Expo, was likewise very pleased about the commercial nature of the show. "This show has really been fantastic. This is a commercial audience versus hobbyist, so we're seeing some really good interest from a number of different industries from construction to building inspections to search and rescue operations- you name it, there's been representation here. These are the people using UAV technology in their business or to make money."
Attendee Maurice Nutall, Senior Safety Specialist with ComEd's UAS program, spoke to the need to stay on top of the rapidly evolving drone industry and how well Commercial UAV Expo addressed that need. "There was a lot of good information about the FAA rules and regulations and all the latest UAS systems in the conference sessions. Things are always evolving and always changing. We want to ensure that when we're about to purchase new UAS to build our fleet that we have the latest and greatest. Things are going to continue to change, and we want to be on the forefront of it."
Michael Singer, CEO of DroneView Technologies, a service provider for enterprise customers who had attended 4 UAS events in the last month, said he was very impressed with Commercial UAV Expo. "It's an environment that brings both the equipment manufacturers and other people with industry-specific domain expertise together in a way that has been very valuable to us."
 "We've received great feedback as well as suggestions for next year's show from attendees and exhibitors alike," said Ms. Murray. "We're now taking that feedback and terrific momentum to begin planning next year's show, which will be even bigger and better than the first."
The 2016 will take place October 31-November 2, 2016at the MGM Grand in Las Vegas.
About Commercial UAV Expo
Commercial UAV Expo is a conference and exhibition exclusively focused on commercial sUAS (small Unmanned Aerial Systems) for large enterprise asset owners in North America.  Vertical markets include: Surveying & Mapping; Civil Infrastructure;  Mining; Construction; Process, Power & Utilities; Precision Agriculture; Law Enforcement, Security and Search & Rescue (SAR).  Commercial UAV Expo is organized by Diversified Communications. The second annual edition will take place October 31 – November 2, 2016 at the MGM Grand in Las Vegas. For more information, visit www.expouav.com.
About Diversified Communications
Diversified Communications, based in Portland, Maine, US, provides information and market access through face-to-face events, publications and online media. Diversified serves a number of industries, including technology, food, healthcare, commercial marine and business management. Diversified operates divisions in Australia, Hong Kong, India, the UK and Canada. For more information, visit www.divbusiness.com.