French Energy Company SPIE chooses SuperPad To Enhance Survey Efficiency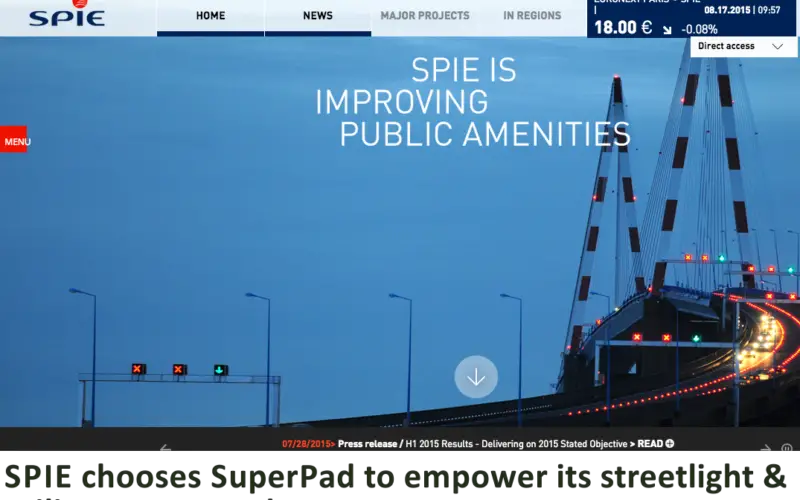 Supergeo, the total GIS software solution provider, announces that SPIE, France, chooses SuperPad, the mapping application designed for Windows Mobile,to empower its streetlights and other utilities survey works.
SPIE, the European leading company in multi-technical services with energy and communication systems, aims to build energy-efficient and environment-friendly facilities for its customers. By importing SuperPad to their field works, the first-line surveyors are able to improve the workflow.
With SuperPad, field workers can efficiently collect and update the status of streetlights and export it to common-use SHP file for office staff. To data accuracy, users can also connect external GNSS devices, and use NTRIP extension to make collected data in sub-meter level.
Moreover, SuperPad offers the possibility to communicate with SuperGIS Server, so that the up-to-date information can be timely uploaded on the Internet, and related staff or the public can gather needed information.
Get trial of SuperPad to power up fieldwork
http://www.supergeotek.com/ProductPage_SP3.aspx
Learn more from free course of SuperPad
http://www.supergeotek.com/support_online_courses_L04.aspx
Complete Forestry Management with SuperPad & SuperGIS Desktop
http://www.supergeotek.com/support_ComingWebinars.aspx?Type=Upcoming&ID=1535
#  #  #
About Supergeo
Supergeo Technologies Inc. is a leading global provider of GIS software and solutions. Since its establishment, Supergeo has been dedicated to providing state-of-the-art geospatial technologies and comprehensive services for customers around the world. It is our vision to help users utilize geospatial technologies to create a better world.
Supergeo software and applications have spread worldwide to become the backbone of the world's mapping and spatial analysis. Supergeo is the professional GIS vendor, providing GIS-related users with complete GIS solutions for desktop, mobile, server, and Internet platforms.