Milestone of Indian Freedom Movements Through Esri Story Map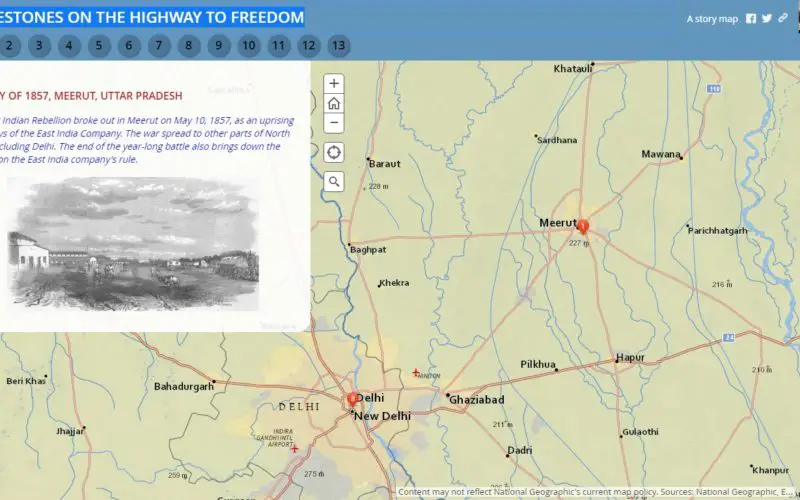 Contributed By:-

The Indian national movement for freedom was undoubtedly one of the biggest mass movements modern society. The movement involved many political and social organizations and armed and unarmed struggle.
It was the morning of 11 May 1857, when a band of Sepoys from Meerut, who had defied and killed the European officers the previous day and marched to the Red Fort. They entered the Red Fort to appeal to Bahadur Shah II, the Moghul Emperor to become their leader, thus, give legitimacy to their cause.
The Revolt at Meerut and the capture of Delhi was the precursor to a widespread mutiny by the sepoys and rebellion almost all over North India, as well as Central and Western India.
India's struggle for independence was actively shaped, influenced and nurtured by Mohandas Karamchand Gandhi. Gandhi was undoubtedly the undisputed leader of millions of freedom loving Indians. He strode like an unrivaled colossus transforming the freedom movement to a broad-based mass movement by his policy of non-violence based non-cooperation and civil disobedience movement, and finally, his slogan 'Do or Die' inspired the Quit India movement.
The Indian independence unrivaled a movement from 1857 (in many cases, even pre-dating 1857) until August 15, 1947, when India got independence from the British Raj.
On 15 August 1947, Jawaharlal Nehru, who had become the first Prime Minister of India that day, raised the Indian national flag above the Lahori Gate of the Red Fort in Delhi. On each subsequent Independence Day, the prime minister has raised the flag and given a speech.
Mr. Abhishek Sindal has created Story Map using Esri mapping technology to give a glimpse of the major milestone on the highway to freedom of India.