India Geospatial Forum 2015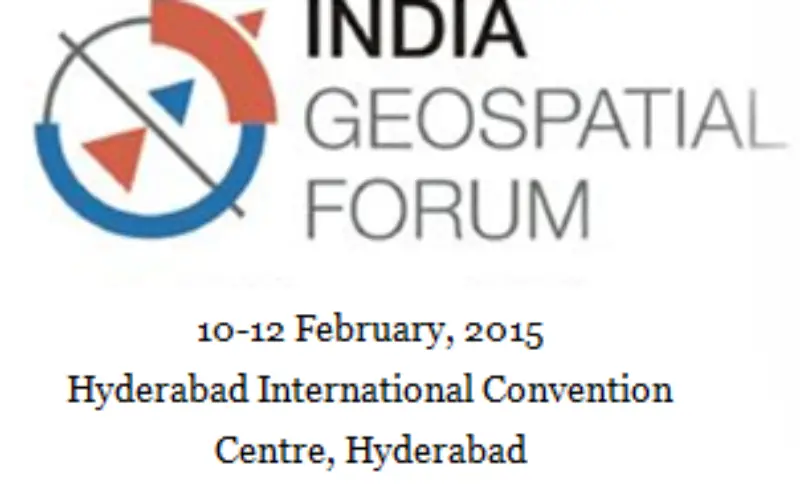 Geospatial Media and Communications is proud to present the 17th edition of India Geospatial Forum – India Geospatial Forum 2015. With this edition, Geospatial Media aims to strengthen and expand its campaign of transforming India Geospatial Forum into an industry movement involving every stakeholder at national, state and local levels, to unleash a revolution that geospatial technology in bring about in the way the nation and its people live and work.
India Geospatial Forum, organised by Geospatial Media & Communications, has emerged as the premier annual conference for the Indian geospatial industry. As geospatial technology continues to grow in importance and influence in India, this conference plays an integral role in keeping the professionals and users across the country connected and educated.
Theme:
With the theme "G-revolution!", India Geospatial Forum is poised to demonstrate how geospatial technology can bring about a real difference and revolution in the way the nation works and grows, bringing together the diverse stakeholders at all levels who influence technology uptake – policy makers, administrators, technologists, user organisations, technology providers, and academia. The conference will be a platform for these stakeholders to engage in discussion and dialogue to address the issues that can propel technology use to next level; present best practices, and get hands-on demonstration of cutting-edge technology, to be the true beneficiaries of the technology and revolutionise the way they work.
Technical Theme:
Positioning
Laser Scanning
Remote Sensing & Photogrammetry
GPS, Reference Station Infrastructure
Mobile & Cloud
Visualisation & Analytics
Enterprise / IT
Agriculture
Geo Business intelligence
Smarts Cities / Urban Local bodies
Mining
Climate change & environment
Foresty
Integrated water resource management
Who Should Attend:
Organisations from sectors that can benefit tremendously from use of geospatial information
Mapping agencies / data providers
Decision makers, policy makers from various agencies contributing to nation's socio-economic growth
Entrepreneurs, marketing managers, CTOs, CEOs, business strategists
Geospatial technology providers
Academia and researchers
When and Where
10-12 February, 2015

Hyderabad International Convention Centre, Hyderabad
Visit for more detail: http://indiageospatialforum.org/2015/index.htm