NRSC has Launched Plug-in Independent Bhuvan 3D
Bhuvan: A Gateway to Indian Earth Observation,is a web based software enabled application to explore earth in 2D and 3D. Bhuvan was developed by National Remote Sensing Centre (NRSC), Hyderabad, India.  Bhuvan is specially tailored for India, offering the highest resolution in this region provided with local four languages. 
Bhuvan  has come up with new updates on its 5th Anniversary '12-Aug-2014′. The new updates include plug-in independent  Bhuvan 3D explorer,  GIS Viewer to create map from text, Landslide Early Warning System and facility to create online shapefile and download. The Bhuvan has also added one update for near real time hydrological modelling.
Plug-in independent  Bhuvan 3D explorer has a 3D globe displaying satellite imagery. The Bhuvan 3D explorer is based on WebGL.You may search places, detailed street level views of some of the larger cities are clearly visible. Bhuvan 3D explorer also has option to overlay certain layers such as Administrative Boundaries, rail and road network,  Panchayat Boundaries, basins and rivers.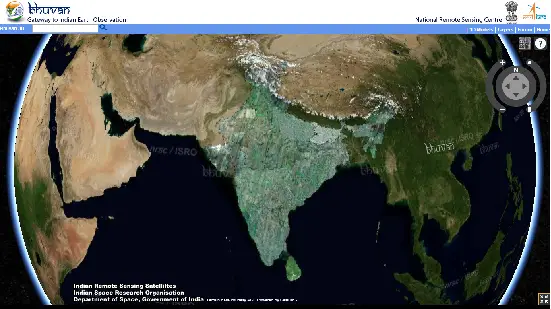 GIS Viewer allow users to generate choropleth maps and point map from input as text. Point maps can be generated by a text file containing column names with longitude and latitude . The choropleth maps can be generated for State, District by providing Census 2011 code or Name. The GIS Viewer has detailed instructions to generate maps.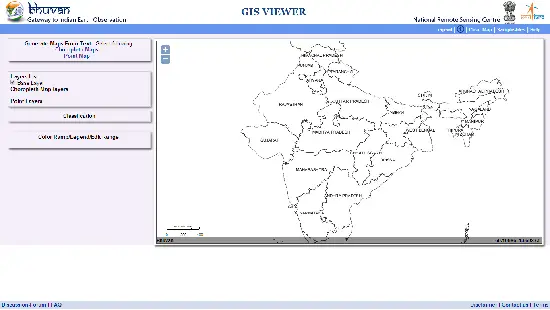 Landslide Early Warning System: NRSC has updated Bhuvan with an advance tool to disseminate  landslide early warning. This tool is a part of Disaster Management Support programme of ISRO. Currently early warning for rain triggered landslide is available for Rishikesh-Badrinath, Chamoli-Okhimath, Rudraprayg-Kedarnath.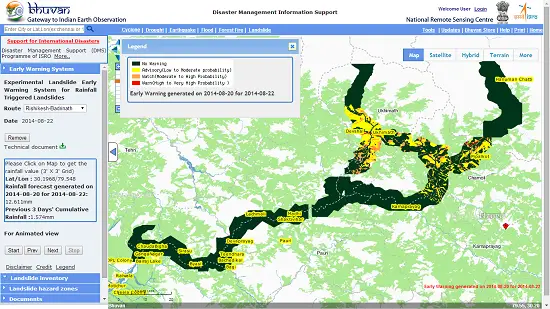 Online Shapefile:  The user has to go through a registration process to access this tool. The tool allow to add features such as area,building,river, road to the map. The user can download the edited data in shapefile format.
Related Link:
Bhuvan Updates: Gateway To Indian Earth Observation