Supergeo Launches the Newest SuperGIS Network Analyst 3.2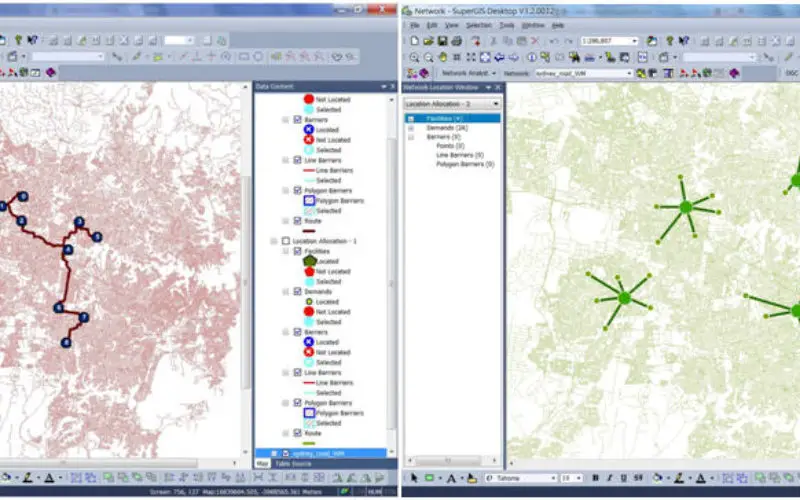 Supergeo Technologies Inc., the global leading GIS software and solution provider, launches the newest SuperGIS Network Analyst 3.2 with stronger analysis performance and computing methods.
SuperGIS Network Analyst 3.2 enables users to analyze routing problems in multiple applications, such as transportation planning, tourism shortest analyst, underground pipelines planning, convenience store location deciding, service distribution etc. Through the analysis program, users can get the best location or route. Furthermore, SuperGIS Network Analyst 3.2 supports hierarchy (HRC) setting for road types, so users can quickly solve the problem even with massive network data.
The latest SuperGIS Network Analyst 3.2 supports genetic algorithm and simulated annealing algorithm on vehicle routing problems to accelerate problem solving process and improve analyzing efficiency substantially. Besides, the location allocation analysis provides three new methods, including Minimize Impedance, Maximize Coverage and Minimize Facilities, for users to choose based on respective circumstances.
For practical application, Maximize Coverage is usually applied to emergency facilities such as fire stations, police stations, and emergency service centers. Minimize Facilities is used to reach as many demands as possible under limited budgets, like library, park, bus station, etc. Minimize Impedance can be utilized to decide business sites like convenience stores or delivery center, etc, and let customers approach the facilities with minimum cost.
To get the latest trial and information of SuperGIS Network Analyst 3.2, visit Supergeo website: http://www.supergeotek.com/download_6_desktop.aspx
#  #  #
About Supergeo
Supergeo Technologies Inc. is a leading global provider of GIS software and solutions. Since the establishment, Supergeo has been dedicated to providing state-of-the-art geospatial technologies and comprehensive services for customers around the world. It is our vision to help users utilize geospatial technologies to create a better world.
Supergeo software and applications have been spread over the world to be the backbone of the world's mapping and spatial analysis. Supergeo is the professional GIS vendor, providing GIS-related users with complete GIS solutions for desktop, mobile, server, and Internet platforms.
Marketing Contact:
Patty Chen
Supergeo Technologies Inc.
5F, No. 71, Sec. 1, Zhouzi St., Taipei, 114, TAIWAN
TEL:+886-2-2659 1899
Website: www.supergeotek.com
Email: patty@supergeotek.com