AGI and NEHU are Organizing a Conference On "Role of Geospatial Technologies in the Development of North Eastern Region of India", Bringing Together the Largest Pool of Geospatial Stakeholders in the NE Region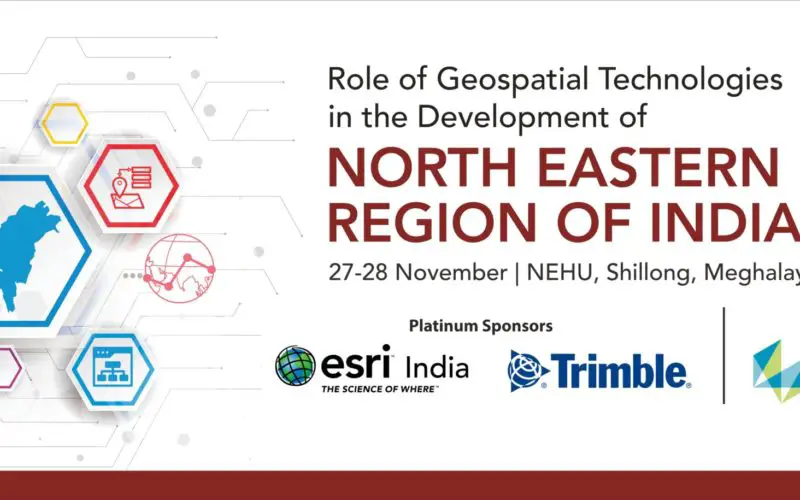 Geospatial professionals have exciting days to look forward in this month. Association of Geospatial Industries (AGI), New Delhi and Department of Geography, North-Eastern Hill University, Shillong is jointly organizing a two-day conference on "Role of Geospatial Technologies in the Development of North Eastern Region of India" on 27-28 November, 2019. The Conference will be held at the Multi-use Convention Hall, North Eastern Hill University (NEHU), Shillong.
AGI as an industry-led professional organization represents the interests of geospatial industry in India and works towards the advancement of geospatial technologies and their applications.  Through this conference AGI will bring together eminent leaders of the government, academia and the geospatial industry to help understand the potential of geospatial technologies in the development of entire North Eastern Region of India.
Rajan Aiyer, President, AGI feels strongly that this conference will provide inspiration for the overall development of NE region, "This is a very seminal initiative by AGI to highlight the importance of incorporating various geospatial technologies for the holistic development of the NE region across a wide variety of industry verticals such as Forestry, Smart cities, Infrastructure, Disaster Management, etc. We will be having some intriguing talks and presentations from Survey of India (SOI), NECTAR, NESAC, NIC, IMD, etc.  We are excited that this conference will be attended by industry luminaries across the North Eastern region and will pave the way for accelerated deployment of appropriate solutions."
The North Eastern Region (NER) of India is blessed with scenic natural beauty, rich biodiversity, and rare wild life. However, due to its distinctive topographic and physiographic conditions, it has been a challenging region for developmental activities. Geospatial technologies can provide valuable contribution for accelerating the overall growth of the region and its people.
Agendra Kumar, Sr. Vice President, AGI, believes, "Given an expansive spread of North Eastern Region, delivering government services to citizens has been a constant challenge for both central and state governments. This conference will provide a platform for robust exchange of information on GIS technologies and how these can be leveraged for creating and monitoring policies and programs. Through the active participation by government executives, GIS thought leaders, users and policy makers; delegates will gain insights on the latest technology and its applications for the development in the NE region. It is imperative for all stakeholders of the GIS industry to collectively work together to achieve the vision of building digitally empowered societies."
The conference will give a glimpse into a new and futuristic NE Region of India through immersive and knowledge sharing sessions, such as:
Geospatial Technologies: Modern Warfare Tools for Defense and Homeland Security
Building Sustainable Infrastructure through Geospatial Technologies in North Eastern India
Geo-enabled Smart Cities: A Holistic Approach
Geo-enabled Water and Sanitation Management
Geospatial for Efficient Forest Management
Application of Geospatial Technologies in Disaster Management
Land Use and Land Pattern for North Eastern Region
The outcome of the conference is expected to bring out valuable insights and recommendations that will help in furthering the developmental planning of the entire North Eastern Region.
For further information please contact:
Meenal Dhande
meenal.dhande@agiindia.com
9811539905
Association of Geospatial Industries (AGI)
5th Floor, IETE Building, 2, Institutional Area, Lodhi Road, New Delhi 110003
Email: info@agiindia.com  | Phone: +91 120 4274759