Global Mapper and LiDAR Module SDK v19.1 Now Available with New 3D Mesh Generation Capabilities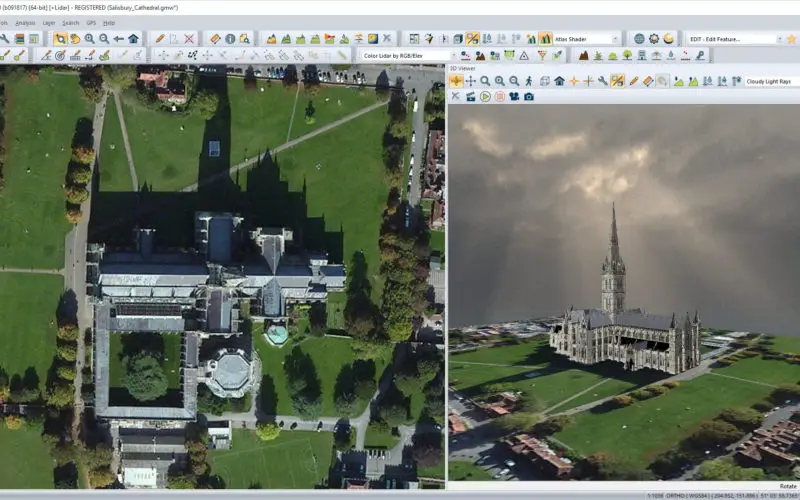 Hallowell, Maine – March 20, 2018 – Blue Marble Geographics (bluemarblegeo.com) is pleased to announce the immediate availability of version 19.1 of the Global Mapper Software Development Kit (SDK) along with the accompanying LiDAR Module SDK. Incorporating many of the enhancements that were introduced in the recently released desktop version of the software, this powerful developer's toolkit provides software engineers with the means to embed the latest geospatial technology into their custom applications. Among the highlights of the version 19.1 release are the addition of a script command for generating a point cloud, orthoimage, or 3D mesh from overlapping UAV images; support for importing and exporting AutoCAD 2018 DWG files; and a new option to spatially sort poorly organized LiDAR files.
For over two decades, Blue Marble's affordable, user-friendly GIS software has been meeting the needs of hundreds of thousands of satisfied customers throughout the world. Users come from all industries including software, oil and gas, mining, civil engineering, surveying, and technology companies, as well as government departments and academic institutions.
Global Mapper is an affordable and easy-to-use GIS application capable of displaying, converting, and analyzing virtually any type of geospatial data. The Global Mapper SDK and LiDAR Module SDK provide software developers with a toolkit for accessing much of this functionality from within an existing or custom-built application. The SDK also enables the creation of custom toolbars and extensions to enhance the data processing and analysis functionality of the standard version of Global Mapper. This capability allows in-house developers to create a unique version of the software to meet their specific needs and requirements.
The 19.1 version of the SDK expands on improvements made in preceding releases with many new and updated features and functions. These improvements include several advanced LiDAR and point cloud processing tools, such as automatic spatial point cloud sorting that results in faster rendering and analysis; support for reading and writing LAZ (LasZip) files with the LAS 1.4 fields; and, mirroring the functionality of the software's new Pixels-to-Points tool, a new option to create a script for generating a point cloud, orthoimage, or 3D mesh from overlapping UAV images.
Also added for this release is the option to import and export AutoCAD 2018 DWG files; support for several new UK online data services; and performance improvements in the GM_DrawLayerList process with multiple threads called simultaneously rather than one thread at a time.
"Global Mapper is redefining GIS software by offering the perfect balance of utility and affordability," stated Patrick Cunningham, Blue Marble President. "Software developers are quickly learning that the powerful data processing capabilities of the application can be easily integrated into a custom desktop or cloud-based development project. The Global Mapper SDK offers unmatched data format support, analysis capability, interoperability, and usability in a truly low-cost package."
For a complete list of new features and enhancements or to download the Global Mapper SDK today, visit:
www.bluemarblegeo.com/products/global-mapper-sdk.php
###
About Blue Marble Geographics: Celebrating its 25th anniversary in 2018, Blue Marble Geographics is a pioneer in the development of powerful and innovative geospatial software. Widely regarded for its expertise in coordinate conversion and file format support, Blue Marble's products include Geographic Calculator, the paradigm for highly accurate spatial data conversion and advanced projection management; Global Mapper, a fully-functional and affordable GIS application; and the Global Mapper LiDAR Module, a suite of powerful point cloud processing tools.
Contact Information:
David McKittrick
Blue Marble Geographics
Hallowell, ME, USA
davidm@bluemarblegeo.com
800-616-2725
+1(207) 622-4622