High Accuracy and Advanced Field Work with Latest SuperSurv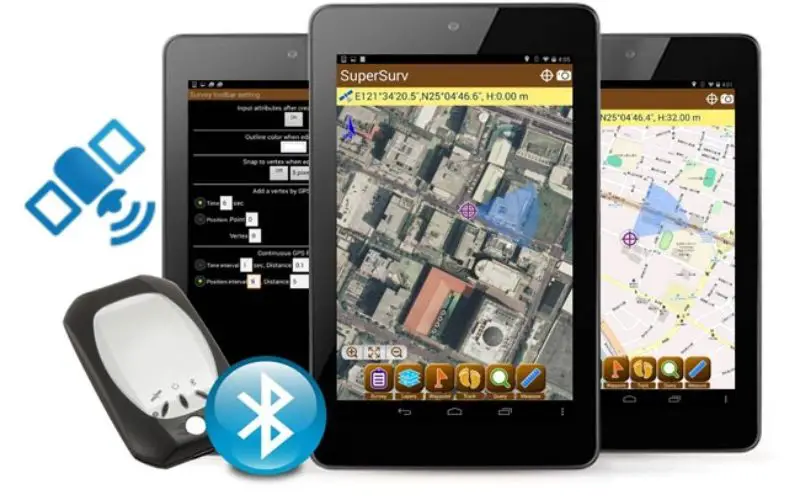 To meet the great needs of high accuracy field data collection and better workflow via modern GNSS technology, Supergeo, the leading GIS software and solution provider, announces the latest SuperSurv (Android), the GIS mapping app, which not only allows users to connect with and operate external Bluetooth GNSS devices, but also elevates field work efficiency with new averaging algorithms.
SuperSurv is an efficient mobile GIS App designed for field data collection on Android and iOS-powered devices. Integrating with GIS and GPS technologies, SuperSurv provides the functions like Map Display, Query, Measure, etc., and supports to overlay OpenStreetMap as the basemap. Also, users may capture point, line and polygon features and attribute data, and save the data as SHP or GEO format in both offline and online modes.
With the newly added external GNSS device connection function, users are now capable of choosing between internal positioning information and outer GNSS source via Bluetooth communication. Simply pairing the GNSS receiver with Android device, SuperSurv allows users to fully control and present detailed messages of navigation within system status. In addition, data collection via GNSS is also enhanced via more options such as coordinate data averaging function or vertex collecting threshold, bringing users modernized and highly accurate field survey experience.
The external GNSS device connection and advanced data collecting functions are fully supported and available with SuperSurv Pro version. For SuperSurv M3 users, the newly added functions come as an optional plug-in which allows users to purchase and download for powering up.
For more information please visit:
http://www.supergeotek.com/ProductPage_SuperSurv.aspx
Details of the GPS Plug-in for SuperSurv M3:
https://play.google.com/store/apps/details?id=supersurv.gpsplugin
Feel free to download the trial from:
iTunes Store
https://itunes.apple.com/us/app/supersurv/id734191604?mt=8
Google Play:
https://play.google.com/store/apps/details?id=com.supergeo.asd.supersurv_lite.SuperSurv
#  #  #
About Supergeo
Supergeo Technologies Inc. is a leading global provider of GIS software and solutions. Since the establishment, Supergeo has been dedicated to providing state-of-the-art geospatial technologies and comprehensive services for customers around the world. It is our vision to help users utilize geospatial technologies to create a better world.
Supergeo software and applications have been spread over the world to be the backbone of the world's mapping and spatial analysis. Supergeo is the professional GIS vendor, providing GIS-related users with complete GIS solutions for desktop, mobile, server, and Internet platforms.
Marketing Contact:
Patty Chen
Supergeo Technologies Inc.
5F, No. 71, Sec. 1, Zhouzi St., Taipei, 114, Taiwan
TEL:+886-2-2659 1899
Website: http://www.supergeotek.com
Email: patty@supergeotek.com