Apple iPad Pro LiDAR scanner – Why and How it Works?
Apple has launched its most advanced iPad Pro in the mid of March 2020. Maintaining its legacy, the new iPod Pro many new advanced features such as an Ultra Wide camera, pro performance, and studio-quality mics.
Another interesting feature that is introduced in the new iPod Pro is a LiDAR scanner. Wait, why does an iPad have a LiDAR scanner, or how does the iPad Pro LiDAR scanner work?
What is LiDAR?
LiDAR – Light Detection and Ranging use light in the form of a pulsed laser to measure ranges (variable distances). A LiDAR instrument principally consists of a laser, a scanner, and a specialized GPS receiver.
LiDAR is a widely used remote sensing method in the field of earth observation, topographical and bathymetry surveying.
That's OK, but why a LiDAR scanner in iPad Pro?
Why a LiDAR Scanner in iPad Pro?
Rapid changing technologies have made our handheld devices much more capable of delivering high-end technologies in our hands. Earlier sophisticated and costly devices use to deliver high-end technologies.
The increasing number of mobile phone or handheld device (iPad) users has inspired the inventors to put leading-edge technologies in these devices.
The breakthrough LiDAR scanner, along with pro cameras, motion sensors, pro performance, pro audio, the stunning Liquid Retina display, and powerful apps, extends the lead of iPad Pro as the world's best device for augmented reality (AR).
The custom-designed miniaturized LiDAR scanner uses a direct time of flight to measure reflected light from up to five meters away, both indoors and out. It works at the photon level, operates at nanosecond speeds, and opens up tremendous possibilities for augmented reality and beyond.
A LiDAR scanner provides a detailed and as-is 3D mapping and visualization of the surrounding. The detailed 3D mapping facilitates augmented reality systems to overlay their data on top of the 3D maps.
How Does Apple iPad Pro LiDAR Scanner Work?
The on-board LiDAR scanner on iPad Pro 11-inch (2nd generation) and iPad Pro 12.9-inch (4th generation) takes advantage of ARKit 3.5 to help your apps better understand physical environments.
ARKit uses the LiDAR Scanner to create a polygonal model of the physical environment. The LiDAR Scanner quickly retrieves depth information from a wide area in front of the user, so ARKit can estimate the shape of the real world without requiring the user to move. ARKit converts the depth information into a series of vertices that connect to form a mesh.
The new depth frameworks in iPadOS combine depth points measured by the LiDAR Scanner and as-is data collected using the LiDAR scanner and other cameras in iPad Pro and is enhanced by computer vision algorithms on the A12Z Bionic for a more detailed understanding of a scene. The tight integration of these elements allows having a complete visualization of surrounding in 3D with an overlap of augmented reality data.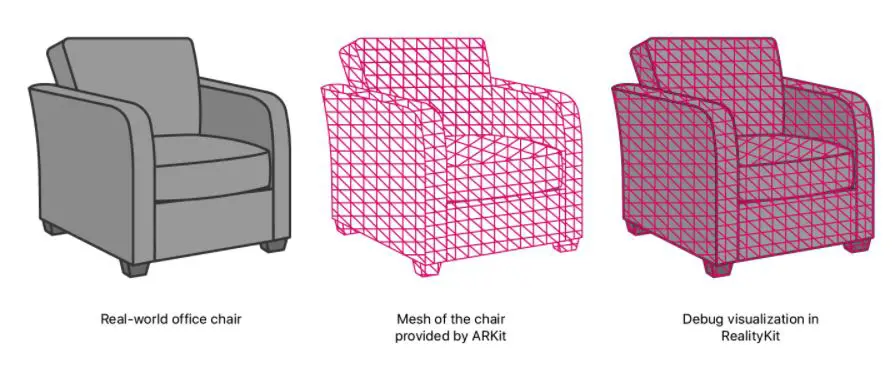 To partition the information, ARKit makes multiple anchors, each assigned a unique portion of the mesh. Collectively, the mesh anchors represent the real-world scene around the user. This helps users to –
Accurately locate points on physical surfaces
Recognize and classify physical objects
Occlude virtual objects with real-world objects
Enable realistic interactions between virtual and physical objects
A YouTube channel "all things tech" has uploaded a video showing how an iPad Pro LiDAR scanner can be used for scanning and measuring. Check out the video here
Source – Apple
You may be interested in – LiDAR Technology for Monitoring Bridge Structure Defect and Health