Put Your LiDAR Data on the GIS Platform!
By rapidly collecting massive data from the surface, LiDAR technology has dramatically changed the geospatial industry. LiDAR data can record much information delicately such as the elevation, the spectrum, and the category of an object, offering high precision data for diverse applications. Now LiDAR technology has been widely used in fields like forest management, shoreline change analysis, disaster management, and pollution simulation.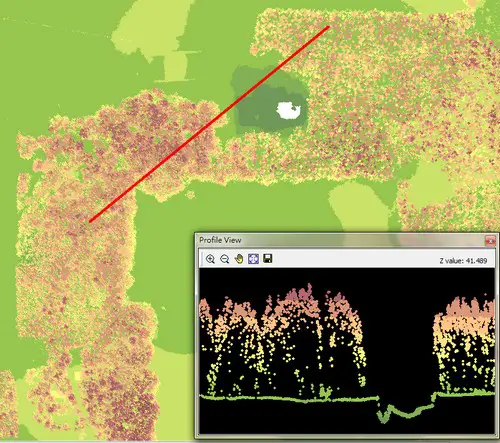 The current SuperGIS Desktop series has already supported users to display LiDAR data both in 2D and 3D environments. And as LiDAR application is gaining popularity, Supergeo will provide more LiDAR tools for users inSuperGIS Desktop 10. With these tools, users can identify the RGB value, the elevation value, and classification value, while at the same time to exclude unnecessary information with filtering tools. For example, to observe the topography more clearly, you can purify the data by removing the data from the canopy while retaining the data from the surface. Except displaying LiDAR data, users can also manipulate these data with ease, such as filtering and exporting required data, splitting and merging data, or converting LiDAR data into raster or vector data. Furthermore, users can use the built-in spatial analysis of SuperGIS Desktop to find more values in the processed data.
After elevating the broadness of LiDAR application on our GIS platform, Supergeo will continuously strengthen LiDAR application in the 3D environment and develop further spatial analysis methods, enabling users to make better decisions. Please stay tuned for latest news on facebook, twitter, or our website.
Or contact with us via: staff@supergeotek.com