India and Mexico Sign MoU on Space Cooperation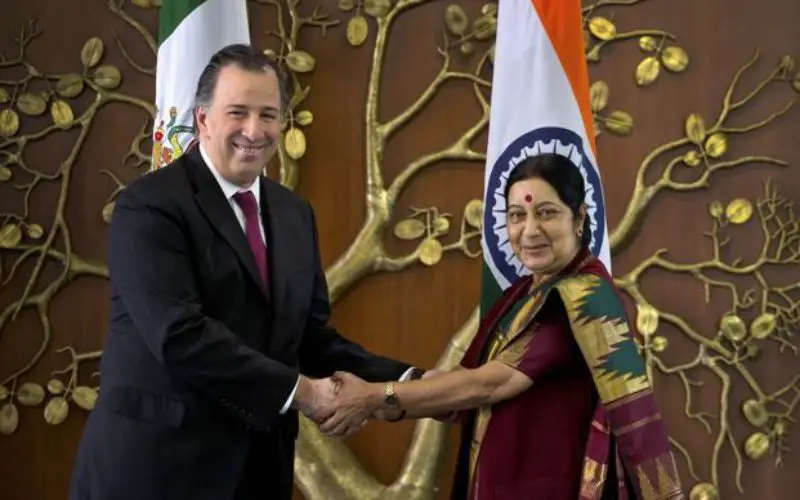 In recent news, India and Mexico signed an MoU on space cooperation under which both sides will work together in remote sensing, satellite communication and areas relating to the peaceful use of outer space, besides taking the overall ties to a higher trajectory.
External Affairs Minister Sushma Swaraj and her Mexican counterpart Jose Antonio Meade Kuribrena, presiding over the Sixth Session of the Joint Commission Meeting between India and Mexico, also decided to explore cooperation in the hydrocarbon sector.
Mexico has initiated reforms in the energy sector and both private and public sector Indian companies are looking for opportunities in the sector.
India imports crude oil from Mexico and it is the largest buyer of Mexican crude oil in Asia and overall the third largest globally.
Official sources said both Swaraj and Kuribrena underlined the need to expand the ties, particularly in the trade sector. The bilateral trade volume has increased appreciably. In 2010, the trade volume was USD 2.81 billion while it has reached around USD 7 billion currently.
India's exports mainly comprise organic chemicals, vehicles and auto parts, electrical machinery and equipment, mineral fuels and oil, pharmaceuticals, textiles and garments, gems and jewellery.
The two Ministers discussed the reforms which are underway in both countries. Mexico is taking steps to pass and implement new labour laws and fiscal laws in the telecom sector and in the field of energy.
The External Affairs Minister informed her Mexican counterpart that there are similar challenges in India and several reforms have already been initiated to put the economy on a high-growth path.
Official sources said the MoU on space provides for cooperation in areas like remote sensing, satellite communication, capacity development and other mutually beneficial areas relating to peaceful use of outer space.
They said that Mexico will be setting up an 'India Room' in the National Museum of Cultures in Mexico City and India has gifted 108 pieces for this purpose.
The Mexican Foreign Minister handed over to Swaraj an invitation from the President of Mexico to Prime Minister Narendra Modi to visit the country at his earliest convenience. The two sides are expected to further consult on this through diplomatic channels, the sources said.
India will be celebrating the 60th anniversary of bilateral relations with Mexico next year and proposes to launch a 'Days of India in Mexico'. Both countries have also agreed to institutionalise a bilateral mechanism on consular issues.
Source: PTI