Mapping and Collecting Geospatial Data with SuperSurv 3.2 (iOS)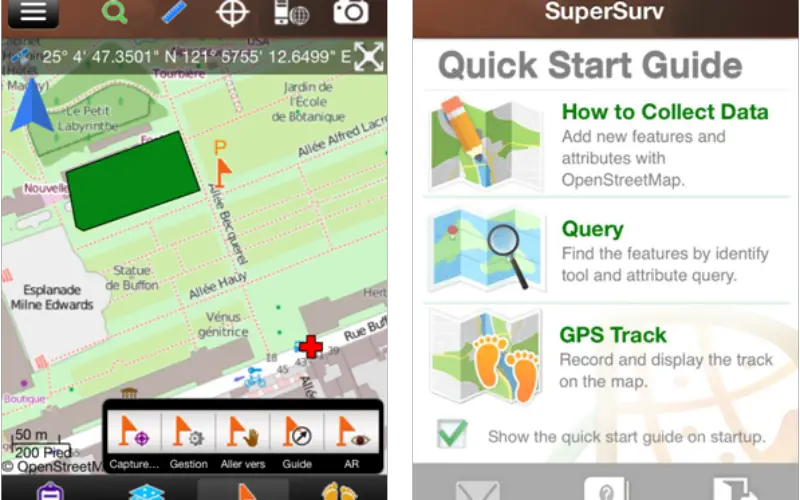 Supergeo Technologies Inc, the leading global provider of GIS software and solutions, announced that SuperSurv 3.2 (iOS), professional mobile GIS App, supports French user interface and Lebanese coordinate system. The new updates enhance manipulation convenience and provide a powerful GIS survey app.
SuperSurv (iOS), GIS data capture app, is designed for geospatial data collection via iPhone and iPad. Integrating with GIS and GPS, SuperSurv (iOS) provides useful functions like Map Display, Query, Measure, offline Edit, etc. Users can set OpenStreetMap as the basemap, and collect point, line, and polygon as attribute data and save it in SHP or GEO format. Photo and video recording and custom tables are also allowed for users to collect data more effectively and flexibly.
New update of SuperSurv 3.2 (iOS) provides users with a more friendly manipulation environment by supporting multi-language interfaces (including English, Chinese, Italy, and now French) and diverse coordinate systems globally. Meanwhile, Quick Start Guide is added to assist beginners in getting into the swing of professional GIS data capture. The support of cloud hard drive (Dropbox) enables users to import and export data more conveniently.
SuperSurv 3.2 supports both iOS and Android systems. Users can collect spatial and attribute data quickly, and utilize helpful field functionalities like attribute query, tracklog recording and display, adding Waypoints, etc to enhance field productivity.
Download free trial from App Store: https://itunes.apple.com/us/app/supersurv/id734191604?mt=8
or Google Play Store: https://play.google.com/store/apps/details?id=com.supergeo.asd.supersurv_lite.SuperSurv
Learn more about SuperSurv: http://www.supergeotek.com/ProductPage_SuperSurv.aspx
#  #  #
About Supergeo
Supergeo Technologies Inc. is a leading global provider of GIS software and solutions. Since the establishment, Supergeo has been dedicated to providing state-of-the-art geospatial technologies and comprehensive services for customers around the world. It is our vision to help users utilize geospatial technologies to create a better world.
Supergeo software and applications have been spread over the world to be the backbone of the world's mapping and spatial analysis. Supergeo is the professional GIS vendor, providing GIS-related users with complete GIS solutions for desktop, mobile, server, and Internet platforms.
Marketing Contact:
Patty Chen
Supergeo Technologies Inc.
5F, No. 71, Sec. 1, Zhouzi St., Taipei, 114, TAIWAN
TEL:+886-2-2659 1899
Website: http://www.supergeotek.com
Email: patty@supergeotek.com