PCI Geomatica Webinar Series: Creating Custom Solutions with Geomatica (Workflows and GUIs)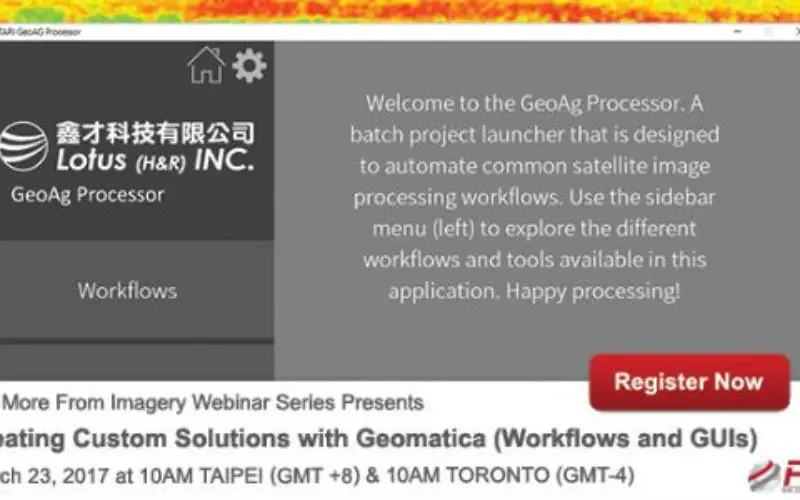 Creating Custom Solutions with Geomatica (Workflows and GUIs)
Asia and Australia – March 23/2017, 10AM TAIPEI (GMT +8)
North America and Europe – March 23/2017 – 10AM TORONTO (GMT-4)
No one problem is the same; geospatial customers face challenges that are often unique to their organizations and industries. As a result, organizations are trending towards custom solutions. This includes tailoring the custom solution to handle specific input data, generate specific output products and even how the interface is designed.
PCI Geomatics and its partners are embracing this new movement and are working together to offer our user community the tools and training required to develop these custom solutions or the services (via our developer network) to have them built for you.
In this webinar we will hear from Rubia Chen, President at Lotus (H&R) INC., based in Taipei, Taiwan. In 2016, Ms. Chen saw an important need for a custom pre-processing app for the staff of the Taiwan Government. Ms. Chen contacted PCI's Developer Network to develop her vision of a software app with a state-of-the-art GUI and custom workflows for batch image processing. Learn more about this software app and how you can offer this app or ones like it to meet your needs or the needs of your clients.
What You'll Learn:
Challenges the client faced
How the GeoAg Processor (custom app) helps to solve those challenges
How to use the GeoAg Processor
How to connect with the PCI Developer Network to get your ideas built
How to join the network as a developer
Speakers
Shawn Melamed
Technical Solutions Specialist,
PCI Geomatics
Rubia Chen
President, Lotus (H&R) INC.