Esri India Webinar: Mapping, Advanced Analytics and Sharing Maps with ArcGIS Desktop 10.5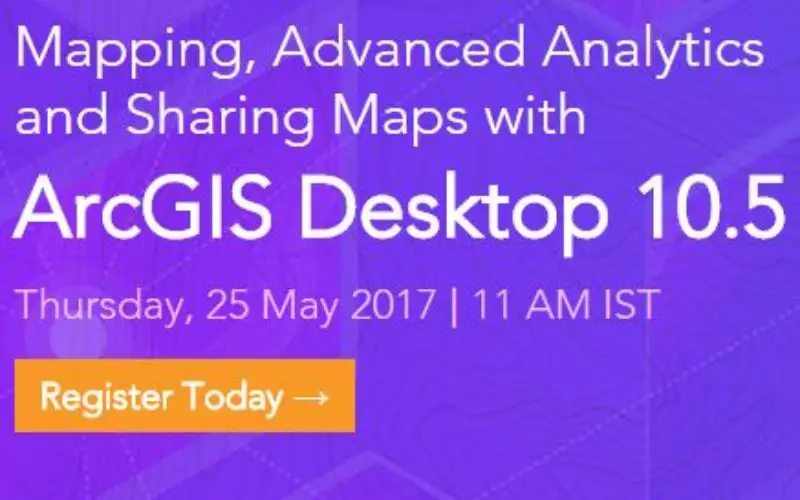 Webinar: Mapping, Advanced Analytics and Sharing Maps with ArcGIS Desktop 10.5
Date: Thursday, May 25, 2017 | 11:00 AM IST onwards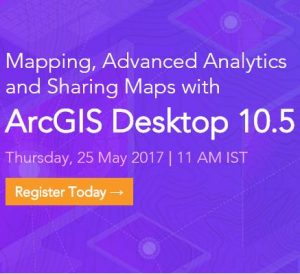 ArcGIS 10.5 is a big release; arguably one of our biggest, and it's bringing several big changes to the ArcGIS platform.
ArcGIS Desktop, the foundation for GIS, is the key to realizing the advantage of location awareness. Collect and manage data, create professional maps, perform traditional and advanced spatial analysis, and solve real problems. ArcMap and ArcGIS Pro, the two primary desktop applications for GIS professionals, are both parts of ArcGIS Desktop.
Join the free Esri India webinar to understand more about what's new and improved in the newest version of ArcMap 10.5 and ArcGIS Pro 1.4. Learn how this new version goes a long way in advanced analysis and quickly creating persisted results and share them within an organization.
Key Highlights
New Geoprocessing tools
Data management Capabilities
Ortho mapping
Analysis and geoprocessing
Portal analysis
Who Should Attend?
GIS professionals, Esri users and anyone who wants to learn how ArcGIS 10.5 provides a complete platform to explore and analyze data to uncover intelligence that lies just beneath the surface.
Speakers
Sreekumar, Manager Pre-Sales, Esri India
Tapan Joshi, Pre-Sales, Esri India