RIEGL LIDAR 2015 – New Sponsors and First Speaker Announcements!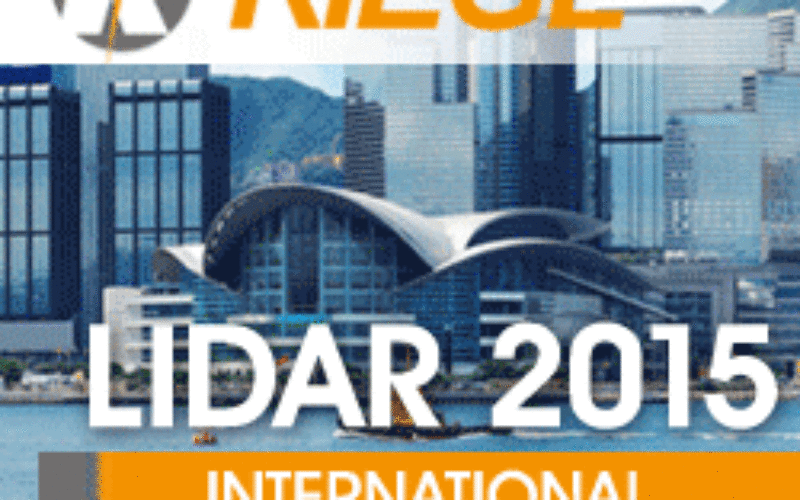 RIEGL LIDAR 2015 
May 5-8, 2015 in Hong Kong and Guangzhou (Canton), China
Presentation slots and seats for RIEGL LIDAR 2015 are filling up fast! New sponsors and exhibitors have been announced. Have you secured your place at the most exciting LiDAR event of the year?
RIEGL is honored that Professor Jun Li, Chair of the ISPRS Mobile Division and Dean of the College of Engineering at Xiamen University, China, as well as guest professor at the University of Waterloo, Canada, will give a keynote speech at our Guangzhou opening. As already announced earlier, we are pleased that Mr. Lawrie Jordan, Director of Imagery of Esri, will give a keynote speech in our Hong Kong opening.
Some of RIEGL LIDAR 2015's first international expert speakers include: Michael L. Aslaksen, Jr. with NOAA (National Oceanic and Atmospheric Administration, USA, prospective), Andy Eavis with the British Caving Association (UK), Masashi Tsuzuku, Nakanihon Air Service (Japan), Martin Isenburg with rapidlasso (Germany), Flavien Viguier with SNCF Railway (France), Alexander Wiechert with Microsoft UltraCam / Vexcel Imaging (Austria), Frank Steinbacher with Airborne Hydro Mapping (Austria), Jörg Hacker with Airborne Research (Australia), and Jeffrey Deems, National Snow and Ice Data Center, University of Colorado (USA).
RIEGL LIDAR 2015 sponsorships are still available. Join our diverse group of powerful international sponsors to give your company the visibility and exposure to members of some of the leading geospatial companies in the world! For more information on how you can sponsor RIEGL LIDAR 2015, please visit www.riegllidar.com .
Today, we would like to especially welcome our latest sponsors to RIEGL LIDAR 2015: Trimble, PhaseOne Aerial, Microsoft/ Vexcel Imaging, iXBlue, Milan Geoservice GmbH, PointShape, Schiebel, Geo-Info, ITRES, IGI, Orbit GT and Terrasolid.
In the special 3D Exhibiton area, ArcTron 3D (Germany), will present their latest results in 3D data acquisition with combined technologies to the further integration of the data for digital reconstruction and multimedia presentations. Arctron's exhibition will be completed with 3D installations for virtual and augmented reality. Euclideon (Australia), will be presenting its unique "Hologram Room", immersing users in an incredibly life-like 3D copy of the real world obtained by LiDAR data, running scenes of unlimited detail and complexity in real time.
More details and the final Agenda for RIEGL LIDAR 2015 will be published in the next weeks, so stay tuned for more information!
RIEGL is extremely excited to working with our partner hosts, Five Star Electronic Technology and RedChina Geosystems in putting together an exciting RIEGL LIDAR 2015 international user conference.
We look forward to welcoming you to RIEGL LIDAR 2015!
Thanks to our media sponsors!
LiDAR News, American Surveyor, Geoinformatics, xyHt, Point Of Beginning, GIM International, Earth Imaging Journal, SPAR Point Group, Geoconnexion, GeoProfi Russia, Inside Unmanned Systems, GIS Business, Vector 1 Media, GIS Café, Directions, International Mining, Geomatics World, Business Geomatics, Geospatial Media, MyCoordinates, and GIS Resources!
About RIEGL:
The Austrian based firm RIEGL Laser Measurement Systems is a performance leader in research, development and production of terrestrial, industrial, mobile, bathymetric, airborne and UAS-based laser scanning systems. RIEGL's innovative hard- and software provides powerful solutions for nearly all imaginable fields of application.
Worldwide sales, training, support and services are delivered from RIEGL's Austrian headquarters and its offices in Vienna and Salzburg, main offices in the USA, Japan, and in China, and by a worldwide network of representatives covering Europe, North and South America, Asia, Australia and Africa.
For more information, visit www.riegl.com.