Telangana Goes for Geo-tagging With the Help of NRSC and ICRISAT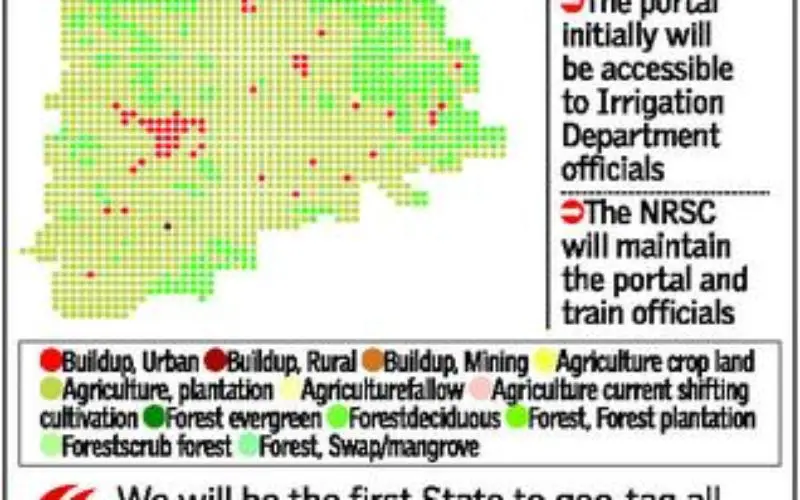 According to recent news by The Hindu, soon the citizens, farmers, administrators and policy makers can gain access to information about water availability and cropping pattern in all irrigation systems throughout Telangana on their mobile phones along with satellite maps.
While the mobile app is still in the developmental stage, the Irrigation and Command Area Development (I&CAD) Department is getting ready to build an exclusive Telangana Water Resources Information System (TWRIS) portal with the help of the National Remote Sensing Center (NRSC) for a holistic geospatial database for the total irrigation system.
Geospatial data
The NRSC through Cartosat satellites will be providing geospatial technology support from the Bhuvan geo-platform with necessary tools and interfaces. Geospatial data on natural resources, drainage, water bodies, etc., generated from different sources, will be published and enabled for online access through the portal for use by the department.
"We will be the first State to geotag all the major, medium and minor irrigation projects, canals system, command areas with boundaries and project details with help of satellite imagery to be updated once every fortnight," explains Commissioner of Command Area Development Authority Dr. G. Malsur.
Cropping pattern
The portal, which will initially be made accessible to the irrigation department officials, is being designed to provide information about water availability in any given project at a given point of time, data related to cropping pattern, whether it is a single crop or double crop for kharif/rabi, drought intensity, total irrigated area etc., for every cropping season.
"We will also be in a position to know the irrigation potential utilised, the ayacut gap in the command area and whether there is any overlap of the command area," he says.
ICRISAT (International Crops Research Institute for Semi-Arid Tropics) has also been roped in for information about the cropping patterns and irrigated area mapping with details of canal or well or ground water or rainfed. The NRSC will be maintaining the portal and also train officials for using the portal and satellite data based irrigation management applications, in facilitating data generation and verification.