The Bureau of Land Management Uses Esri Story Maps to Encourage Public Land Exploration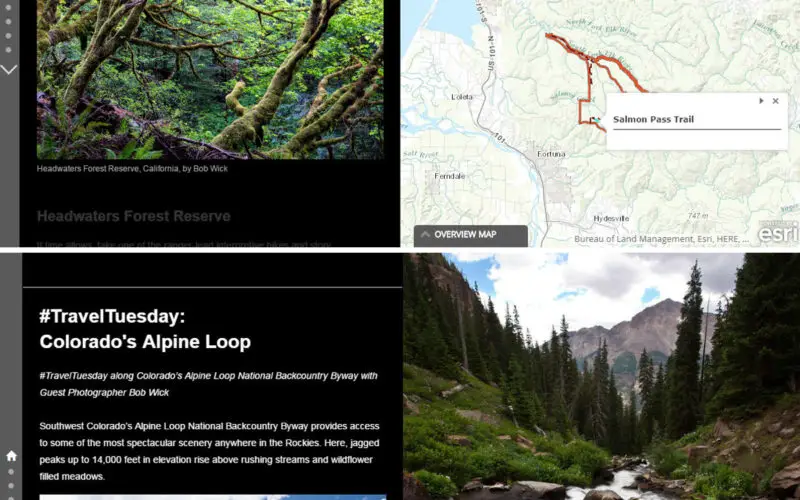 Engaging the Public through the Travelogues of Wilderness Specialist Bob Wick 
Redlands, California—The Bureau of Land Management (BLM) now uses Esri Story Maps to encourage exploration of the United States' public land treasures. The story maps document the travels of BLM wilderness specialist and photographer Bob Wick and were designed to acquaint citizens with the wonders of BLM-managed scenic land.
As part of a larger BLM awareness campaign called My Public Lands, Wick's travelogues were published every Tuesday last winter and featured in the bureau's #traveltuesday Tumblr blog. The #traveltuesday campaign represents the extension of the bureau's geographic information system (GIS) into a social media outreach tool.
"The ArcGIS platform has been used for many years for geographic data management and analysis by federal agencies," says Allen Carroll, Esri's program manager for Story Maps. "It's really exciting to see these national organizations use the Esri storytelling medium to engage the public."
Wick's diaries serve as a sequel to last year's photo journal project called Summer Road Trip. Also making use of the Esri Story Map Journal app template, Road Trip documented jaunts through America's iconic forests, deserts, and canyons to familiarize potential visitors and offer travel tips. BLM's new #traveltuesday campaign offers a more personalized travel record, documenting Wick's adventures across the United States in detail and including interactive maps of each destination.
A 28-year veteran of the bureau, Wick is intimately familiar with BLM-managed public lands. Much of that knowledge came from GIS maps used in the dozens of resource management projects he's led during his service at the bureau.
"By integrating photography, multimedia and maps, the Esri Story Map journals bring America's beautiful public landscapes to life," says Wick. "Our potential visitors can use the journals as real travel guides, or the public can experience their lands virtually from any location."
Esri Story Map Journal lets authors combine dynamic maps with images, narrative, and other media to create interactive travelogues, guides, and reports. For more information on Esri Story Maps, please visit storymaps.arcgis.com.