Update to Global Mapper Now Available with New Coffee-Making Toolbar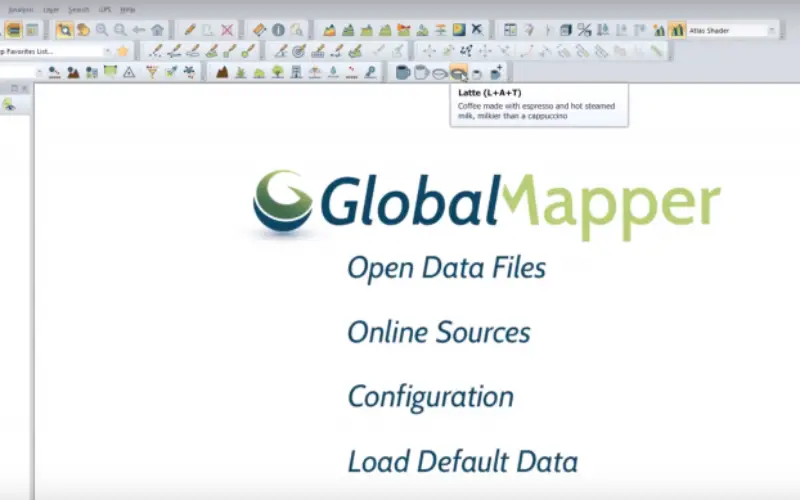 Hallowell, Maine – April 1, 2018 – Blue Marble Geographics (bluemarblegeo.com) is pleased to announce the immediate availability of an interim update to Global Mapper. This release introduces a major new component to the software's interface, which has been designed to ensure that the user's attention is focused on the task at hand. With a simple click of a button, users can now order a freshly brewed cup of coffee from within Global Mapper's toolbar.
Blue Marble's GIS software is used by hundreds of thousands of satisfied customers throughout the world who need affordable, user-friendly, yet powerful GIS solutions. Users come from a wide range of industries including software, oil and gas, mining, civil engineering, surveying, and technology companies, as well as government departments and academic institutions.
The addition of the so-called "Coffee Bar" is yet another example of the rapid, user-focused development philosophy that has defined Global Mapper over its 25-year history. Virtually every new feature or function that has been introduced can be attributed to direct input from a customer or user. In the case of the Coffee Bar, the inspiration came from Laurent Martin, a Blue Marble partner and reseller based in Brazil, a country noted for is coffee production. In a recent blog post, Martin noted that, "Global Mapper will do everything you need, except serving you a cup of coffee".
Global Mapper developers realized that this was a major deficiency that needed to be addressed and quickly set about engineering a solution. The culmination of their work is a new six-button toolbar that offers a range of coffee options including regular, cappuccino, and espresso. After clicking the appropriate button, a status bar will appear indicating the progress of the brewing process and within minutes, a fresh cup of coffee will be delivered right to your desk or workstation. To see the Coffee Bar in action, click here.
The underlying technology that has been developed for the Coffee Bar can easily be adapted for other beverages and a Tea Bar is currently in the early stages of development. A Bar Bar is also being planned, which will serve alcoholic drinks, subject to local licensing laws. Plans are in place to integrate this component into the Global Mapper SDK, which will allow software engineers to add their own beverage options.
"Because Global Mapper is able to efficiently perform complex data processing tasks with minimal user input, the mind of the typical Global Mapper user has a tendency to wonder." stated Blue Marble's President, Patrick Cunningham. "The new Global Mapper Coffee Bar ensures that a caffeine-charged pick-me-up is just a click away to re-charge and re-focus our users."
While the Coffee Bar is currently available in the desktop release of the software, a scaled-down version has been planned for Global Mapper Mobile for both iOS and Android devices. This will serve up your favorite hot beverages in a convenient to-go cup. Warning, beverages may be hot, serious injury or pain could result.
###
About Blue Marble Geographics: Since the early 1990s, Blue Marble Geographics has been a pioneer in the development of powerful and innovative geospatial software. Widely regarded for its expertise in coordinate conversion and file format support, Blue Marble's products include Geographic Calculator, the paradigm for highly accurate spatial data conversion and advanced projection management; Global Mapper, a fully-functional and affordable GIS application; and the Global Mapper LiDAR Module, a suite of powerful point cloud processing tools.
Contact Information:
David McKittrick
Blue Marble Geographics
Hallowell, ME, USA
davidm@bluemarblegeo.com
800-616-2725
+1(207) 622-4622