NGCC and Esri Provide Access to Authoritative Chinese Cartographic Maps and Imagery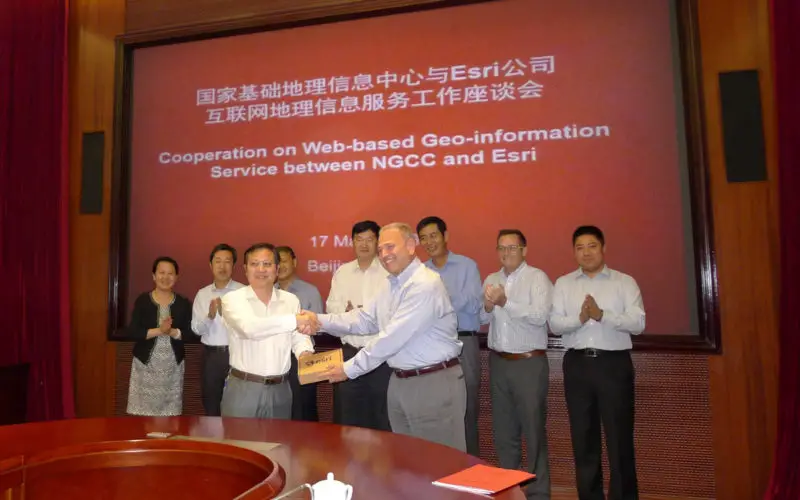 Redlands, California—The world's leading mapping platform company, Esri, and the National Geomatics Center of China (NGCC) held a signing ceremony in Beijing, China with respect to providing access to NGCC's mapping web services. This historic agreement will allow more users who reside outside of China to access the country's authoritative cartographic and imagery data. Users of the Esri ArcGIS platform will have access to the maps for no additional charge.
"The cooperation between NGCC and Esri will enable a large number of ArcGIS online users to gain access to the rich regional online geodata of China," said Zhigang Li, NASG Chief Engineer, on behalf of NASG. "The agreement will facilitate the scientific and technological communication between agencies by sharing geographic information and services over the web in the Asia Pacific Region. NGCC hopes this joint work is able to promote regional, even global, promotion of spatial data."
NGCC is a government agency attached to National Administration of Surveying, Mapping (NASG) and Geoinformation of China. NGCC is responsible for national data that is used in surveying and mapping projects in China, as well as facilitating the scientific and technological communication between agencies in China, in the areas of sharing geographic data and services over the web.
"We are honored to work with the government of China to provide access to the most current and authoritative basemaps for the country," said Jack Dangermond, president of Esri. "We look foreward to continued collaboration."
The web services will be available in the third quarter of 2016. For more information on content available for the ArcGIS platform visit http://www.esri.com/data.