YellowScan and Geotrim Sign a Distribution Agreement for Finland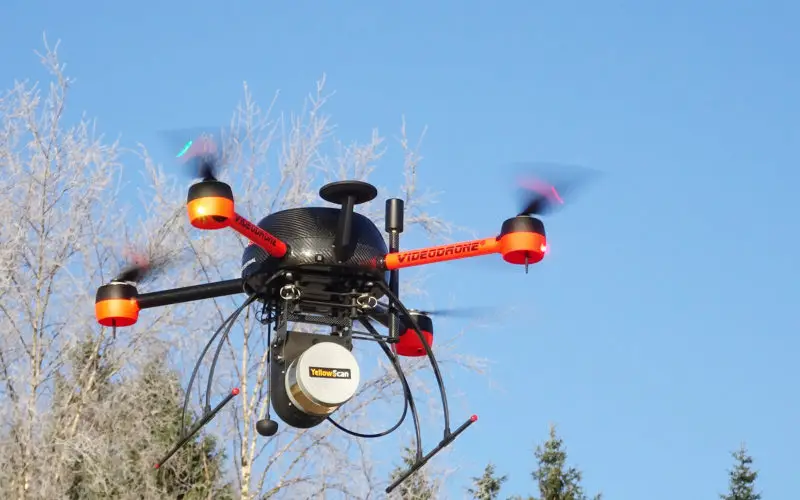 Montpellier, 15 December 2017 – YellowScan and Geotrim have concluded a distribution agreement for Finland. Headquartered in Vantaa, Geotrim is the Finnish Distributor of Trimble Geomatics solutions with long time experience on Imaging and UAV technologies.
The agreement broadens YellowScan´s coverage in the Scandinavian regions.
UAVs in combination with LiDAR technologies are now recognised as one of the most effective and reliable solutions for aerial 3D point cloud acquisition. Easy to use and flexible, LiDARs for UAV provide users the ability to generate within minutes from landing a geo-referenced and ready to use point cloud which is used in a variety of applications including preliminary surveys for large building sites, corridor mapping, volumetric surveys, high-level topographic surveys, structure inspection, geology, forestry, archeology and much more.
YellowScan's solutions include the newest "YellowScan Vx" LiDAR ideally suited for long-range survey and advanced accuracy and precision with operative flying heights up to 100 mAGL. The "YellowScan Surveyor" LiDAR is the world lightest all-integrated system which makes it also the most adapted when weight and time of flight is at stake. "YellowScan Mapper II" is considered the perfect solution for forestry and low budget projects. All YellowScan products use Applanix (a Trimble company) IMUs to reach top of the range accuracy and precision.
The combination of UAVs and low-altitude 3D LiDAR scanning is the perfect complementation to our Imaging product portfolio. After having been able to provide a terrestrial, mobile and indoor geo-spatial scanning solutions to our customers now they will be able to fully survey their project from the sky. The ease of use, the effectiveness and the precision of YellowScan´s solutions have been fully demonstrated recently at the GIS-Expo exhibition, encountering a large interest among our customers and also customers of our competition. We are going to be very active from Q1 2018 to promote this solution in Finland, a country with strong experience in LiDAR technologies" said Timo Sääski, CEO of Geotrim. "We are eager to add YellowScan's unique LiDAR for UAV to our portfolio of survey imaging solutions."
"YellowScan team is excited about the agreement," said Pierre d´Hauteville, CEO of YellowScan. "For Geotrim to see the value in UAV LiDAR systems for geospatial imaging applications means that the industry is truly ready for this exciting new technology. We are enthusiastic about how UAV-LiDAR can change the paradigm of acquiring 3D data not only by higher accuracy and precision but also introducing effectiveness, efficiency and faster work process in the everyday tasks. We are very eager to start working with Geotrim which is a very professional and renowned player in Finland. The common experience on Applanix technology will accelerate this collaboration and the introduction of our products in Finland in which UAV LiDAR will further be adopted by professionals."
###
About YellowScan
Since 2012, YellowScan designs and provides some of the world's most accurate, compact, lightweight and easy to use remote sensing solutions for the surveying and mapping industry. Based on the long hands-on experience of its developers YellowScan has built a reliable set of UAV LiDAR products for rapid terrain mapping and related processing softwares. By making this technology widely accessible in terms of price and ease of use, YellowScan's goal is to bring the surveying and mapping industry to a new level of effectiveness.
For more information, visit: www.yellowscan.fr
About Geotrim
Geotrim is Finland's leading total solutions company for land and building measurement, GNSS positioning, location information, agricultural applications and specializes in geospatial activities.
Geotrim is the authorized dealer of Trimble offering comprehensive solutions and services in various sectors, both public and private sector. Founded in 2001, Geotrim has grown in the last ten years becoming the undisputed market leader in Finland. Geotrim's goal is to help its customers succeed and increase production efficiency by offering systems that are reliable, accurate and produce flawless end results.
For more information, visit : www.geotrim.fi
Contact:
Nada Jdaini
Communication Manager
YellowScan
Tel: +33 411 931 427
Email: nada.jdaini@yellowscan.fr