A Landsat based Tool to Map Wildfire Hazard and Susceptibility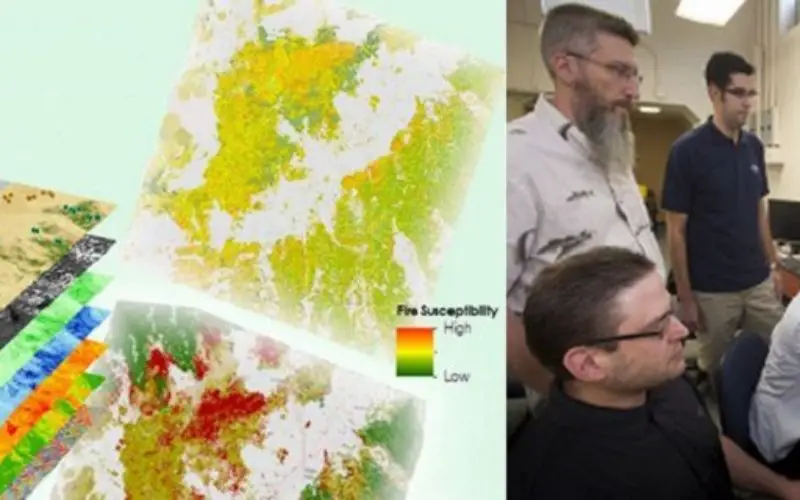 Wildfires, coupled with the presence of invasive plant species, are primary drivers of change in semi-arid savanna ecosystems. These wildfires disrupt ecosystems, human localities, critical habitats of the endangered Greater Sage Grouse (Centrocercus urophasianus), and create opportunities for invasive species to expand their populations.
Wildland fire regimes have changed dramatically due to cheatgrass (Bromus tectorum), an invasive annual grass, which has effectively lengthened the wildfire season and increased fire frequency. The ability of cheatgrass to quickly establish in disturbed areas creates a positive feedback cycle with wildland fire, resulting in landscapes that burn more frequently and become increasingly dominated by this invasive plant.
This creates a need for more advanced landscape and wildfire monitoring tools that can identify the prominence of invasive plants in order to provide better information regarding fire susceptibility.
In a joint study by Idaho State University and NASA researchers teaming up with the Bureau of Land Management used satellite imagery to identify increased wildfire susceptibility due to the invasion of cheatgrass on rangelands.
The Idaho Disasters III Project Team working at ISU's GIS Training and Research Center, one of only eight regional NASA DEVELOP Nodes in the United States, created reliable map images that BLM managers can use to identify cheatgrass infested areas. The map covers a large swath of eastern Idaho.
This study used spring and summer 2013, 2014, and 2015 imagery from Landsat 8 Operational Land Imagery (OLI) and decision-tree-based classification to create a vegetation distribution map of Southeast Idaho that identified cheatgrass and was subsequently used to create a fire susceptibility map for the study area.
"By using Landsat 8 imagery, and classification tree analysis, which is an advanced artificial intelligence routine, we have been able to construct a reliable classification system to identify cheatgrass infestations that is accurate," said Keith Weber, director of the ISU GIS Center. "This has implications for fire susceptibility. Cheatgrass is driving wildfire on rangelands and we need to identify areas that have heightened susceptibility to wildfire."
The new maps have a variety of uses. Land managers can use this type of information to plan prescribed fires, fuel treatments, and other wildfire prevention/rehabilitation programs. In addition, the models may be used to assess the overall land health.
Jeff May, the lead on this DEVELOP project, gave a project presentation this July in Washington, D.C. at the NASA Applied Science Application Showcase, which highlights NASA DEVELOP achievements.
"One of the main objectives of the NASA DEVELOP program is to take NASA technologies and find ways that land managers can apply them to make better land management decisions," May said. "And we feel like we succeeded with this project."
These results enhance the decision-making processes of the Bureau of Land Management and Idaho Department of Land with respect to resource allocations and support post-fire rehabilitation planning and fuel reduction programs.