Aerial Mapping Pioneer Bluesky Supports Clean Energy Campaign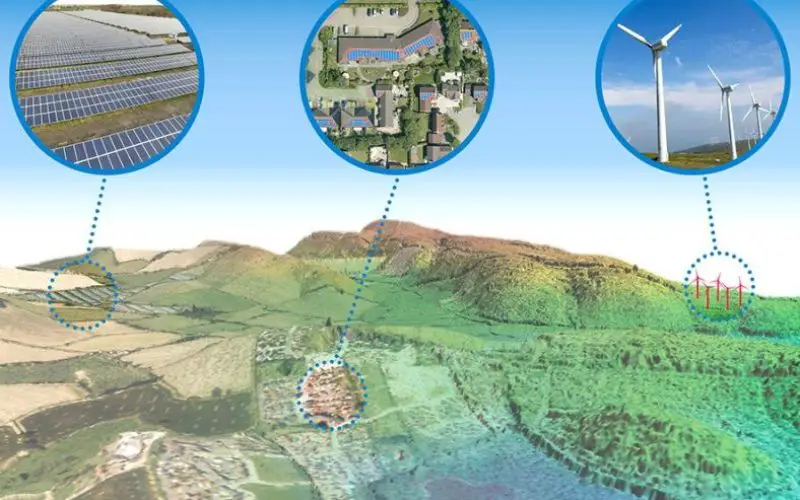 Aerial mapping company Bluesky is backing a charity's campaign to protect the subsidies for clean energy projects. Under recent Government proposals, changes to the Feed-in-Tariffs (FiTs) for wind, solar and hydro power will be dramatically cut and eventually phased out. The 'Keep FiTs' campaign, by climate change charity 10:10, is designed to give the public a chance to have their say on the consultation through a simple web portal.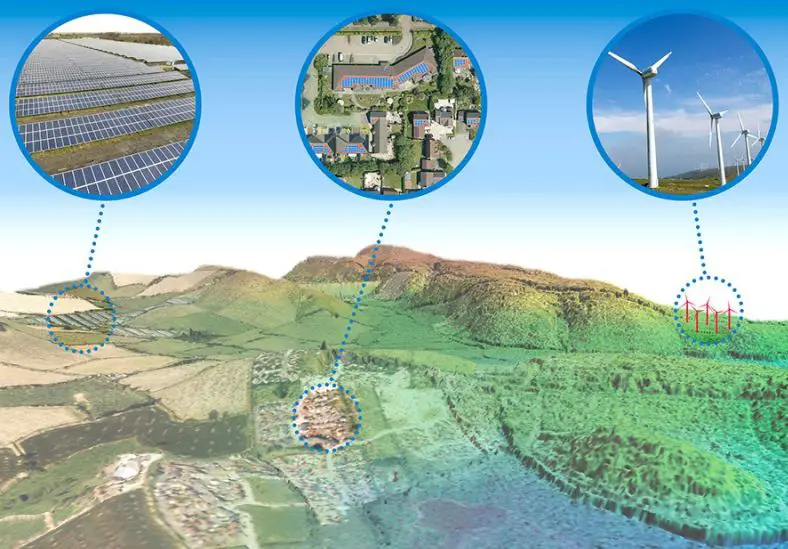 "Changes to the Feed-in Tariffs are already having an impact on clean energy projects, and any further changes will dramatically impact on the industry as a whole," commented Rachel Tidmarsh, Managing Director of Leicestershire based Bluesky. "It is therefore more important than ever that any proposed scheme is scrutinised to determine optimum location, size and specification before investment is made, and quality mapping is crucial to this decision making."
Bluesky has a unique method of generating renewable energy maps, for example, using photogrammetric techniques to accurately measure and record factors that may contribute to the suitability of a property for photovoltaic systems. Bluesky calculates the energy potential using high resolution aerial photography combined with 3D models of the earth's surface to determine the size, aspect and gradient of each roof in the study area.
The suitability of each roof is also considered, taking into account sharp angles and other impediments, such as sky lights or dormer windows. Potential obstructions, such as nearby buildings or trees, can also be identified and mapped. This data is combined with a given panel size to determine the number of potential panels and an estimate of solar irradiation. This methodology is also being applied to wind and hydro projects across the UK, as well as larger solar installations.
The Department for Energy and Climate Change (DECC) began the consultation on the Feed-in Tariffs scheme in August, proposing large cuts to tariffs as early as January 2016. The proposed tariff reductions are much larger than was generally expected; for example, smaller scale PV installations currently eligible for 12.47 pence per kilowatt hour (KWh) would, under the new tariff, only receive 1.63 pence per KWh – an 87 percent cut. For new applicants, generation tariffs could potentially be closed by January 2016 and, in the case of solar PV, tariffs for existing systems could reach zero by January 2019. Changes of up to a third are also proposed for wind and hydro projects.
The 'Keep FiTs' campaign is described as giving the British public, through a simple web portal, the opportunity to 'add their voice' to the consultation. It goes on to describe the consultation itself 'as impenetrable to all but tech-gurus and policy pros' and urges anyone with an interest in or appreciation of renewables to get involved at 38 degrees – one of the UK's biggest online campaigning communities  https://speakout.38degrees.org.uk/surveys/keep-fits