Drones Against Natural Disasters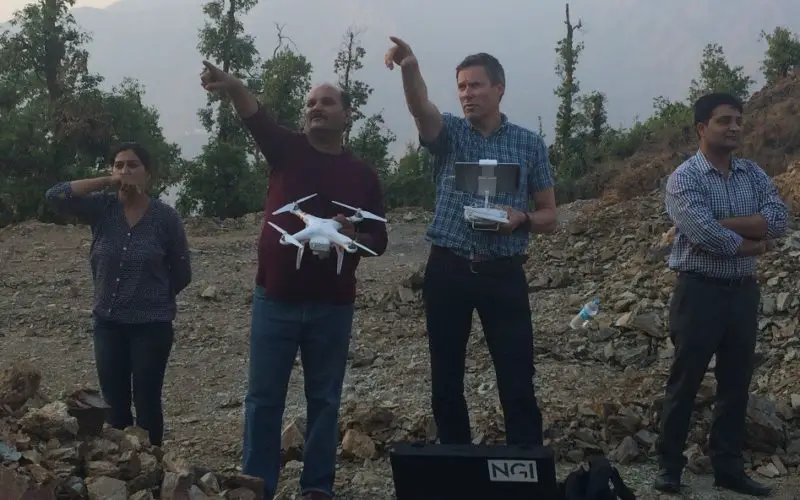 In June 2013, the Himalayan state of Uttarakhand experienced severe flooding and landslides, resulting in a catastrophic natural disaster. An Indo-Norwegian cooperation project now provides technical support for mitigating disasters in the state and beyond.
The Norwegian Geotechnical Institute (NGI) is a leading international centre for research and consulting within geosciences. It offers expertise on the behaviour of soil, rock and snow and their interaction with the natural and manmade environment.
With support from the Norwegian Embassy in New Delhi, NGI is currently assisting the Department of Science and Technology (DST), Government of India, in spearheading a national program for mitigating landslide disasters. NGI is involved in the Department's efforts in the state of Uttarakhand. The Himalayan state experienced a catastrophic natural disaster in June 2013 when heavy rainfall and cloudburst caused landslides and flooding, resulting in more than 10.000 fatalities.
Under the Indo-Norwegian cooperation project, state-of-the art technologies are being used for monitoring, predicting and mitigating landslide disasters. Online automatic weather stations and web cameras are monitoring a critical landslide area (Kunjethi) in Uttarakhand. In addition, drone technology is being used to map unstable hilly areas where landslides can occur. Advanced computer software prepare three-dimensional terrain models for evaluating slope stability.
A scientist from NGI visited India recently, to provide training to DST-supported institutions involved in the Indo-Norwegian project. Participants were trained in the use of drones for mapping hilly terrain and analyzing the data collected by the drone afterwards. A drone can map an area of 1 square kilometer up to a height of 1000 meters in just half an hour. Manual mapping of such scale takes almost a month. As part of the project, a drone has been donated to the National Geotechnical Facility. The Facility has been set up in Dehradun, with technical assistance from NGI.
DST Advisor, Dr. Bhoop Singh, acknowledges that such science and technology inputs are vital for gaining a better understanding of landslide prone areas, to prevent future disasters in India. In addition to the disaster mitigation work being performed in the state of Uttarakhand, DST plans to use similar technological equipment to comprehensively map and mitigate such disasters in the North-East of India, where major infrastructure developmental projects, including hydropower, rail and roads, are underway. In the month of April 2016, rainfall induced landslides in the North-Eastern state of Arunachal Pradesh resulted in the loss of 19 lives and caused a disruption of the existing road links.
–  The experience being gained by Indo-Norwegian partners in tackling natural disasters in Uttarakhand will be invaluable for other Indian states prone to similar disasters, said Dr. Singh.
Read more about NGI's expertise in assessing natural hazards
Source: norwayemb.org.in