Celebrate Google Earth 10 Birthday with Two New Features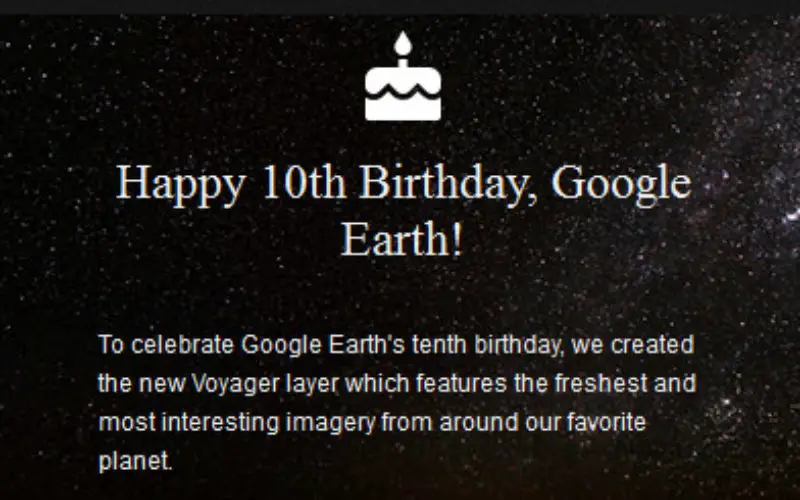 Happy Birthday, Google Earth!
It has been a full decade to the launch of Google Earth, has provided the capability to visualize and analyze geographic data for various scientific applications as well as for day to day life. It added helps for rescue management and better crisis response effort by comparing satellite imagery through time line tool.
Google celebrates this milestone and has unveiled two new exciting features: Voyager and Earth View.
Voyager which available on desktop version, helps you to quickly explore the coolest and most interesting place around the globe with a new layer. Theses layers are organized in five thematic categories:
Street View: highlights from Street View, including the Taj Mahal and the Grand Canyon
Earth View: striking landscapes around the globe as seen from space
3D cities: a showcase of cities and towns available in photorealistic 3D
Satellite imagery updates: a map of our most recently published satellite imagery
Highlight tour: with thousands of Voyager locations to choose from, take a quick tour of a few to whet your appetite
Earth View is library of some of the most striking and enigmatic landscapes available in Google Earth. It started as a 20 percent project last year by a few Googlers who enjoyed scouring satellite imagery for these gems.
For Google Earth's 10th Birthday, Google has announced that that it will expand the library to include more than 1,500 stunning landscapes. You will be able access and download all these images to from your mobile and desktop through an updated version of Chrome extension and new web gallery.
Source: Google