PDF3D Releases 3D Geospatial PDF Plugin for ERDAS IMAGINE at HxGN Live
PDF3D Plugin Released to Create High Quality Geospatial 3D PDF Documents from within ERDAS IMAGINE Spatial Modeler 2016.
Anaheim California, June 13th, 2016 – Technological leaders, PDF3D, have today announced a new development in GIS processing that gives users of Hexagon's ERDAS IMAGINE software a powerful feature designed to integrate 3D PDF reporting by way of a simple plugin.  Visual Technology Services, the developers behind the PDF3D Spatial Modeler plugin, have officially released the technology at the major international conference, HxGN Live, in California this week.
The plugin enables the creation of Geospatial 3D PDF interactive reports without leaving the ERDAS IMAGINE software, which will be welcomed by many environmental engineers, earth resource specialists, emergency responders and geo-intelligence analysts who use this tool to process GIS, remote sensing and photogrammetry data.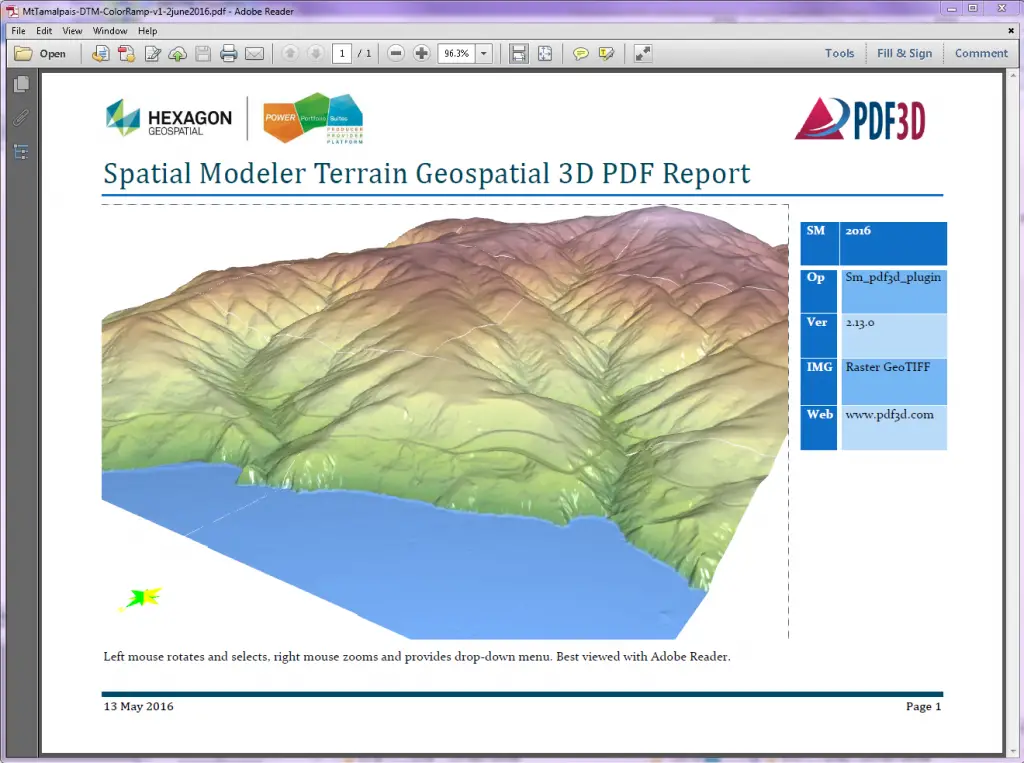 "The IMAGINE Spatial Modeler provides a powerful graphical user interface to perform complex geospatial and photogrammetric analysis often resulting in datasets that are best represented in 3D. With the addition of this plug-in, IMAGINE users now have a way to share their results in an industry standard and trusted format like PDF" comments Steve du Plessis, Executive Consultant at Intergraph Government Solutions. "No more specialized viewers or static 2D views, now executives and decision makers are empowered to make smarter decisions."
The PDF3D operator plugin provides an export capability to generate interactive, stand-alone 3D PDF documents supporting many data types including, LiDAR, UAV and hyperspectral data allowing users to complete just about any analysis with a powerful report. After installation, the tightly integrated functionality is available in the operator toolbox in the Spatial Model Editor.

No viewer-side plugins or changes to the Adobe Reader are required with geospatial location and measurement options embedded directly into the generated highly compressed PDF document files.
"This plugin will make decision making and communications much easier for those working with geospatial images,' explained Ian Curington of PDF3D. "By converting large and often complex data files into the universally accessible PDF format will enable users to compress large scale 3D images to a size that can easily be shared, saved and archived without sacrificing image quality, whilst providing a rich and interactive model viewing experience too."
The Spatial Modeler PDF3D Plugin is available coinciding with the ERDAS IMAGINE 2016 release, offering a powerful and flexible tool for 3D PDF creation ready to connect and run inside Spatial Modeler production workflows. Evaluation trials may be requested at http://www.pdf3d.com
About PDF3D
PDF3D (www.pdf3d.com) produce a suite of widely respected software products and plugins for engineers, scientists and developers who need to communicate complex data and 3D models to others in the universally accessible PDF format.  PDF3D's technology provides the fastest and easiest-to-use, highly compressed 3D PDF conversion available for an ever-increasing range of formats and tools.  From 3D CAD to GIS, DWG and LIDAR, PDF3D works closely with users and programmers within the engineering, geospatial, geology, aerospace, architecture, medical and product packaging communities worldwide.