Explore and Download Berlin 3D City Model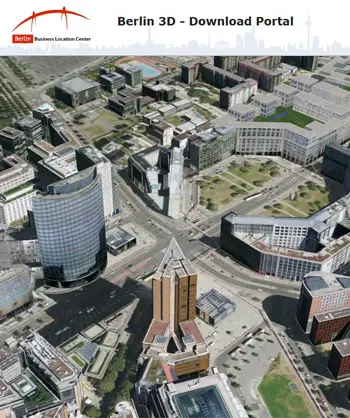 The 3D city model of Berlin the German capital is open to the public as Open Data. The Berlin 3D city model data plays a leading role throughout Europe in the digital economy. The 3D city model is a project by the Senate Department for Economics, Technology and Research and Berlin Partner for Business and Technology
Users can view online 3D city model and can explore the city of Berlin with the model of Business Location Center's realistic model from Berlin Partner of Economics and Technology realistically.
Regardless of scientists, game developers, city planners, architects and graphic designers, anyone can make use of the data of Berlin is available as a free download.
The 3D city model data of Business Location Center's  is huge.  Around 550,000 buildings were photographed and measured at 890 km² territory from the air for the model.
The open data model enables users in a position to refer to both the original CityGML data for the entire city model as well as parts of the city and further processed for its own purposes. Individual buildings or parts can be selected and downloaded in a variety of 3D data formats through a service interface.
"For technology-based companies, start-ups of the digital economy and scientific institutions, the model provides a unique foundation for research and development. Berlin as digital and innovative city is building the model its pioneering role in Europe, "says Dr. Stefan Franzke, Berlin Partner GmbH of Economics and Technology.
Prof. Dr. Jürgen Döllner, Head of Department of Computer Graphics Systems at the Hasso Plattner Institute in Potsdam, the city model provides a unique data base:
"We plan to use the Berlin 3D city model in the exploration and development of processes and IT solutions for the visualization and analysis of 3D spatial models. Specifically, we want the model in the "Urban Analytics" to use as a basis for communication of complex spatial data and processes. "
The download can be done in two ways: either as a download of the 3D building model in the original data structure (CityGML + texture images as a ZIP archive) or as a download from individual buildings or small areas (up to 9 km²) in six different data formats.
To download the original data in CityGML format, ftp://download-berlin3d.virtualcitymap.de/citygml/
The original data were divided into the districts to reduce the amount of data archives and also enable the download of some areas of the city model. The download of smaller areas or individual buildings in six different target formats via the download portal 3D Berlin at:
www.businesslocationcenter.de/berlin3d-downloadportal
For use of the download portal, which enables interactive data selection in a 3D map application, must be fulfilled, which are described in the following chapter defined technical requirements. After the description of the technical requirements follows an instruction manual for the 3D download portal and an explanation of the data formats offered.
Link to the 3D city model and to unrestricted-use video material:www.businesslocationcenter. en / download portal information about Berlin Open Data, seehttp://daten.berlin.de/