ORSAC to Frame Policy for Common Pool of Geo-spatial Info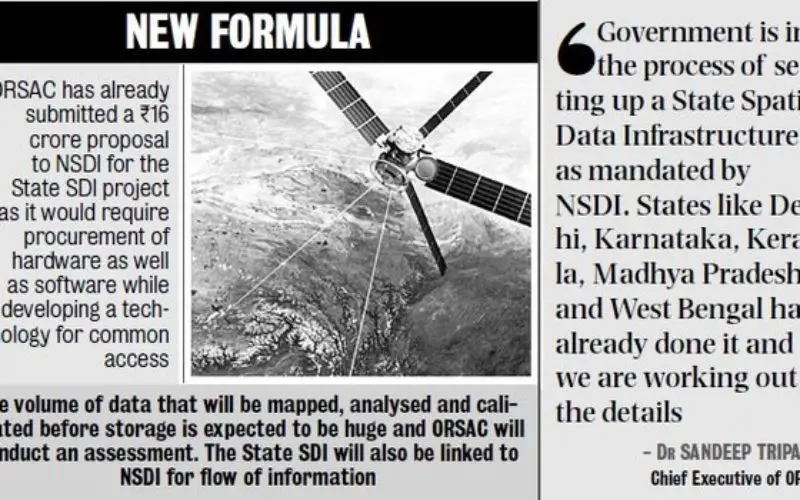 In recent news, The Odisha Government has decided to frame out Data Sharing Policy agencies to bring all geo-spatial information generated by Odisha Space Application Centre (ORSAC) and State-run geospatial agencies to a common pool.
ORSAC along with a group comprising representatives of Revenue and Disaster Management, IT Departments and National Spatial Data Infrastructure (NSDI) will develop the policy which will include protocols on sourcing, sharing, pricing, uploading and alteration of the spatial data. ORSAC have to create software applications required for sourcing and use of the Government agencies, public or private bodies.
ORSAC has requested the Odisha Government to declare it as State SDI so that it can have authorised access to formulate the whole exercise and maintain the data infrastructure. The State SDI will also be linked to NSDI for flow of information.
According to Chief Executive of ORSAC Dr Sandeep Tripathi, the policy is expected to be ready within a month and will be sent for approval to the State Government.
"The Government is in the process of setting up a State Spatial Data Infrastructure (SDI) as mandated by NSDI. States like Delhi, Karnataka, Kerala, Madhya Pradesh and West Bengal have already done it and we are working out the details but before that, the policy has to be devised".
ORSAC is looking at cloud computing instead of using remote servers for the purpose.
Source: Indian Express