GAIL and ISRO Joins Hands for Satellite Monitoring Of Pipelines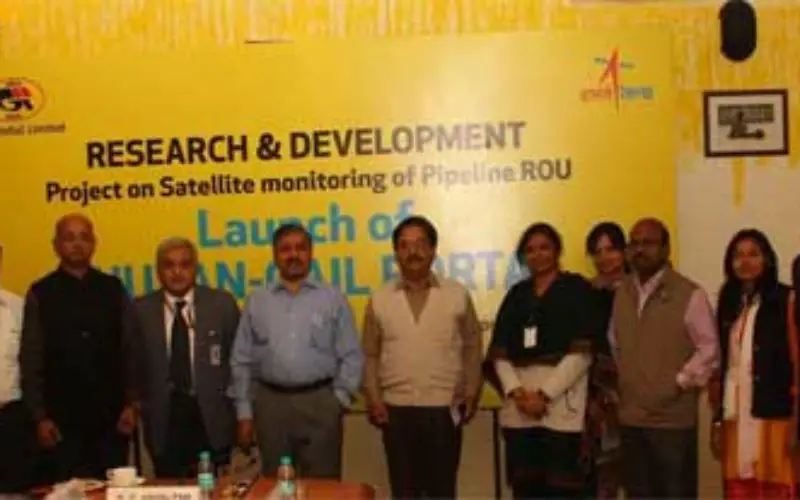 To address pipeline safety concerns, GAIL (India) Limited in collaboration with National Remote Sensing Centre (NRSC) – a unit of Indian Space Research Organization (ISRO) – has launched an innovative surveillance geo-portal called 'Bhuvan-GAIL Portal', utilizing space technology for its pipeline application.
The launch took place in the presence of Shri B C Tripathi, Chairman GAIL (India) Ltd, Dr V K Dadhwal, Director NRSC, ISRO, Shri M Ravindran, Director (HR) – GAIL, Dr Ashutosh Karnataka, Director (Projects) – GAIL, Dr P G Diwakar, Dy Director, NRSC, ISRO, Dr Venugopal Rao, Head Urban Studies, NRSC, ISRO, Shri R K Kashyap, Executive Director (R&D) – GAIL and senior officials from GAIL and ISRO.
Despite challenges, GAIL has proved space technology can be used efficiently to monitor the pipeline's Right of Use (RoU). GAIL has more than 13,000 km of pipeline network, wherein monthly monitoring of pipeline RoU is presently done via Helicopter surveys. By January 2016, GAIL will begin live satellite monitoring of its pipeline RoU. It is also seeking alternative methods such as advanced Unmanned Aerial Vehicles (UAV), which can be integrated with this system.
GAIL has also developed an innovative mobile application from which pictures of untoward incidents taken locally from any mobile showing the actual scenario can be uploaded instantly to the portal.
A report system integrated with the Bhuvan-GAIL portal can send alerts to relevant executives via SMS and email regarding the changes noted along the RoU as well as the arrival of any new satellite photos. To establish the technical feasibility of utilizing space technology for its pipeline applications, GAIL began the study with imageries from Indian satellites and later shifted to very high-resolution foreign satellites.
Worldwide, pipeline safety and security is a major issue. With recent progress in satellite sensing technology, availability of new high-resolution satellites, object-oriented image analysis, etc., there is the possibility to introduce space technology for pipeline monitoring applications. GAIL's R&D pilot project on satellite monitoring of pipeline RoU for the 610-km-long Dahej-Vijaipur pipeline is one such effort to keep pace with technological advancements enabling time and cost-effective solutions. The Bhuvan-GAIL portal is operated via manual as well as auto-change analysis options to monitor changes along the natural gas pipeline RoU.
Change analysis can be undertaken with this technology within the RoU and outside the RoU up to 1 km of the risk zone.
– Asian News International