Get Geared Up! Dynamically Render Your Map Using New JavaScript APIs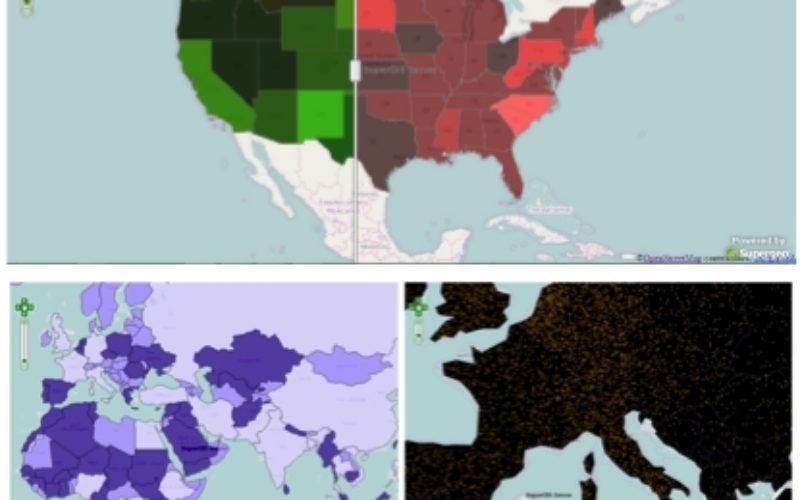 Supergeo has been improving JavaScript APIs since the first release of SuperGIS Server 3.2 to let developers customize their web applications more flexibly. For example, they can customize info window or dynamically render layers at ease. JavaScript APIs are useful tools for developers to customize their ultra web applications to provide more functionality. In SuperGIS Server 3.2, there are a lot of new namespaces, classes, and methods to add graphics, design symbols, render layers and so on.
Now, we provide more useful API samples to show developers how to effortlessly render layers in a numerous way, including unique color, dot density, graduated color and so on, and how to add labels to different layers. With these new samples, developers can better understand the usages of new APIs.
New samples are provided on the website, Supergeo Developer Network (SGDN); you will see lots of latest samples in the first category. If you have already installed SuperGIS Server 3.2, visit SGDN and give new samples a try. If you haven't, go to the link below to download SuperGIS Server and get started today!
Download SuperGIS Server 3.2: http://www.supergeotek.com/download_6_server.aspx
Visit SGDN for new samples: http://sgdn.supergeotek.com/supergis_server_api_JavaScript.aspx
#  #  #
About Supergeo
Supergeo Technologies Inc. is a leading global provider of GIS software and solutions. Since the establishment, Supergeo has been dedicated to providing state-of-the-art geospatial technologies and comprehensive services for customers around the world. It is our vision to help users utilize geospatial technologies to create a better world.
Supergeo software and applications have been spread over the world to be the backbone of the world's mapping and spatial analysis. Supergeo is the professional GIS vendor, providing GIS-related users with complete GIS solutions for desktop, mobile, server, and Internet platforms.
Marketing Contact:
Patty Chen
Supergeo Technologies Inc.
5F, No. 71, Sec. 1, Zhouzi St., Taipei, 114, TAIWAN
TEL:+886-2-2659 1899
Website: http://www.supergeotek.com
Email: patty@supergeotek.com