Global LiDAR Market By Product, By Application, By Component Expected To Reach USD 944.3 Million By 2022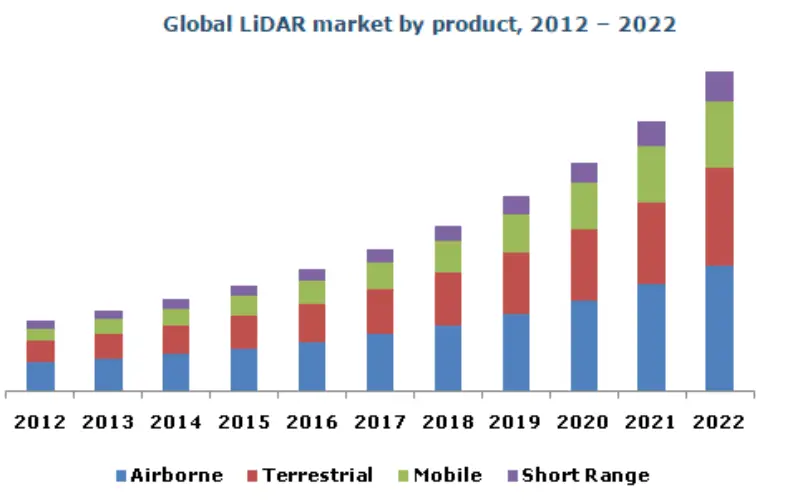 The global LiDAR market is expected to reach USD 944.3 million by 2022, according to a new study by Grand View Research, Inc. Escalating demand for 3D imagery in line with growing adoption of LiDAR technology commercial and government applications such as forestry, railways and roadways management is expected to drive the market through the forecast period.
Rising consumer adoption and increasing number of new product launches is expected to draw huge investment from key participants, thus driving regional market demand over next six years. Miniaturization of various hardware components including storage devices and processors are expected to boost market growth over the forecast period. Launch of Velodyne's LiDAR 'Puck" device is foreseen to revolutionize automotive industry by 2022.
Development of Unmanned aerial vehicles (UAVs) is estimated to unveil dynamic applicability areas for the LiDAR market. Introduction of internet mapping has significantly increased the need for geospatial data. A number of macro-market drivers, including low-cost mapping imager, higher efficiency, data collection of multiple viewpoints, political events, and growing number of projects continue to impact spending across various industry sectors.
However, lack of educated customers is recognized as a business risk for the LIDAR market owing to customer negligence and loss of potential customers. Customer risk awareness and education regarding identity protection are the factors which are expected to serve as growth opportunities for the LiDAR market.
To request a sample copy or view summary of this report, click the link below:
http://www.grandviewresearch.com/industry-analysis/lidar-light-detection-and-ranging-market
Further key findings from the study suggest:
The LiDAR market primarily includes products such as airborne, terrestrial, mobile and short range LiDAR. Airborne systems accounted for majority of market share in 2013: the segment is further expected to lose market share through the forecast period. These systems provide accurate positions over large areas by mapping infrastructure to support visioning exercises, modeling and support maintenance. Airborne system further includes bathymetric and topographic systems. Airborne LiDAR can be used for engineering, disaster management, and other visualization tasks.
Government segment accounted for over 30% of the overall market share in 2013. Growing adoption of LiDAR technology across various government sectors such as forestry management, railways etc. is expected to drive segment growth.
Asia Pacific is expected to witness substantial growth over the forecast period. This may be primarily attributed to increasing low-cost manufacturing activities in the region. Surge in demand across product segments is expected to spur the LiDAR market.
Notable companies operating in the LiDAR market include Velodyne, Quanergy, Phoenix provide varied data collection solutions. Key market participants offer equipment deployment services and professional training in the art of LiDAR data acquisition. A few industry players outsource their manufacturing activites to third-party contractors or subcontractors. For example, Nova Workvision Digital Technology provides outsourcing services to collect land-based and airborne images with high resolution mapping products such as DSM, DOM, DEM, DLG city modeling.
For the purpose of this study, Grand View Research has segmented the LiDAR market on the basis of product, application, component and region:
LiDAR Product Outlook (Revenue, USD Million, 2012 – 2022)
Airborne
Terrestrial
Mobile
Short Range
LiDAR Application Outlook (Revenue, USD Million, 2012 – 2022)
Government
Defense
Civil Engineering
Corridor Mapping
Topographical Survey
LiDAR Component Outlook (Revenue, USD Million, 2012 – 2022)
GPS
Data storage & management systems
Navigation
Laser Scanners
Others
LiDAR Regional Outlook (Revenue, USD Million, 2012 – 2022)
North America
Europe
Asia Pacific
Latin America
MEA
Source – Grand View Research