Pointly – Next Level 3D Point Cloud Classification Tool Launched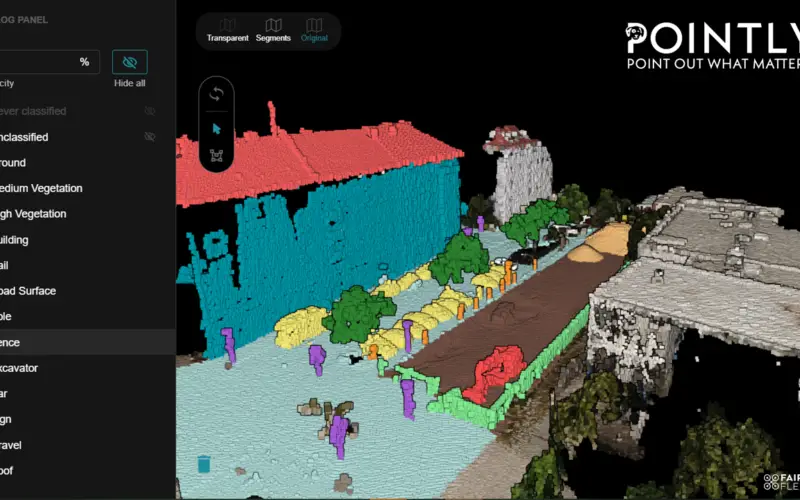 Supper & Supper has launched Pointly, a SaaS solution allowing to manage and classify 3D point clouds with the help of AI
Supper & Supper, one of the leading full-service data science service providers based in Berlin, Germany, has recently launched its cloud-based software called Pointly. The solution enables an accelerated manual 3D point cloud classification using innovative artificial intelligence (AI) techniques.
Pointly's users can choose between a free and a Professional Account. For the latter you can inquire after information at Sales@pointly.ai. A professional account allows you to upload large point clouds and export classified results. Right now, new professional users benefit from an attractive welcome bonus. There is also a great possibility of cooperation for university, school or other educational facility's employees who would like to use Pointly for research purposes. Visit Pointly pricing for more information.
With Pointly, information from 3D point clouds can be extracted with minimal effort and high accuracy. Pointly enables the user to select large swathes of ground with one click and small objects like street signs with the next. What is important, the point clouds are available in their full resolution without compression. Due to smart segmentation and labeling, training data can be easily generated within a short time. The software processes lidar, photogrammetric or otherwise generated point clouds in .las/.laz format and enables the users to manage and structure them. The data can be organized by feature classes, categorizations, lists and tags to make it valuable for further processing. Moreover, Pointly offers a range of features and tools accelerating 3D point cloud classification. Some of them are:
User-friendly interface, offering quick access to all functions thanks to its clear structure and intuitive design.
State-of-the-art 3D visualization, capable of displaying point clouds with up to billions of points as well as smooth zooming and seamless changing of detail levels.
3 segment scales (coarse, medium, fine) adjusted to various point cloud types and resolutions.
3 different views, allowing the users to get the RGB information in the point cloud if it is present, see the pre-processed segments generated by Pointly and hide or highlight selected classes.
3 selection tools: the segment selector, the polygon lasso tool, created to select and classify the points fast and precisely and very soon a 3D Bounding Box.
Pointly uses Microsoft's fast and secure Azure Cloud Computing services, offering elastic and independently scalable processing of large amounts of data. The Azure's 256-bit AES encryption standard provides advanced protection of the data, whether in storage or in transit. The user's identity is managed through Azure B2C and protects the personal data.
In the future, Pointly will get more and more features and will be usable as a user-friendly end-to-end platform solution to not only manage and label but also analyze big data from 3D point clouds.
About the company
Supper & Supper is one of the leading full-service data science service providers in Germany. The Berlin-based company develops tailor-made solutions for machine learning, artificial intelligence, process optimization and digital transformation. S&S unleashes the potential of AI solutions for various business cases and creates competitive advantages through customized data science and machine learning applications. The company has three areas of specialization: Geo AI, Computational Life Science and Mechanical Engineering. For more information, visit https://supperundsupper.com/ and Pointly's website https://pointly.ai/.
Contact
Francie Kastl
Business Development Manager
Tel: 0049 175 85 718 41
francie.kastl@pointly.ai
You may also be interested in Pix4D Announces Machine-Learning Point Cloud Classification