RedTail LiDAR Systems Supports Wounded Veterans Through Stream Restoration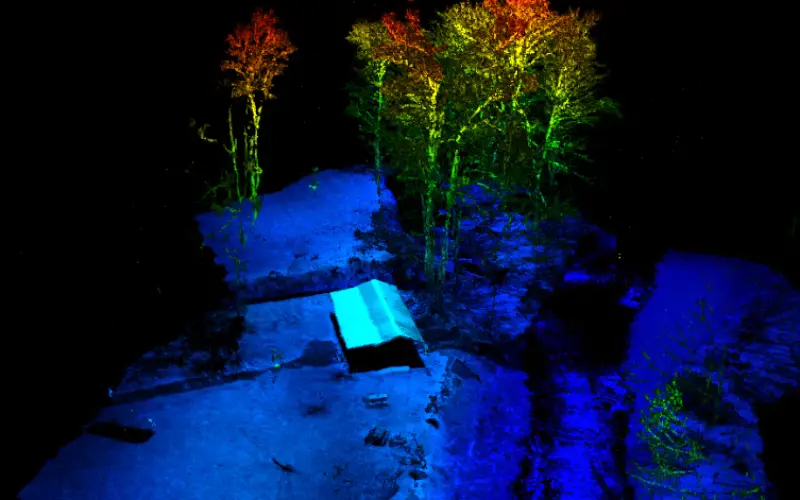 Nestled in the mountains of Tucker County, WV, the Patriots4 (P4) Outdoor Resort is a respite for wounded veterans and their families, service members, and civilians. The non-profit organization's mission is to give back to those who have given so much through their service to our country by providing a means to enjoy outdoor activities at no cost to them.
Located 180 miles from Washington, DC, P4's property is surrounded by majestic mountains and includes easy access to the Clover Run trout stream and frontage on the Cheat River. Veterans can enjoy outdoor activities such as hunting, fishing, kayaking, hiking, and float fishing trips. Overnight lodging is available in handicapped accessible cabins, or for the more adventurous, camping in a personal camper or tent. Along with expert area guides, disabled visitors are provided access to mobility equipment – such as a tracked wheelchair – for fishing and sight-seeing.
Patriots4 prides itself on providing the very best outdoor experiences for its visitors, and safety and accessibility are of paramount importance. That's why when the Clover Run trout stream's failing banks threatened the stability of one of the five handicapped accessible cabins, as well as safe fishing access to the Clover Run stream, the RedTail LiDAR System's RTL-400 was used to aid in the bank restoration efforts that saved the cabin, improved stream access for disabled anglers, and more!
Use of LiDAR for Stream Restoration:
The adoption of drone-based 3D LiDAR mapping technology is an important advancement in the field of stream restoration and monitoring. Compared to traditional surveying and monitoring methods, the use of drone-based LiDAR allows for the rapid inspection and monitoring of miles of stream corridor in very short time periods, providing precise, accurate and consistent data.
The high-resolution images (point clouds) produced by the LiDAR system can be used in all aspects of stream restoration projects, including:
identification of landslides and areas of erosion that could impact restoration
creation of flow models for the accurate assessment of drainage areas
creation of slope models to identify headwater stream channels, logging roads, trails, landslides, rock outcrops, and other disturbances
documentation of as-built structures and conditions
planning for stream access and stream side trail development
The Clover Run Project:
The Clover Run trout stream enhances the beauty and tranquility of the resort but years of human influence and heavy flood flows had eroded the stream banks and contributed to the loss of in-stream structures and pools, causing the fish habitat to be severely degraded. Eventually, the eroding stream banks began to threaten the integrity of one of the cabins, as well as safe fishing access for visitors.
To address the issues, Patriots 4 engaged a stream restoration team which included a partnership between the West Virginia University Natural Resource Analysis Center, WV Division of Natural Resources, and the USDA Natural Resource Conservation Service.
Over a three-year period, the team assessed and monitored the stream and identified multiple restoration goals. These goals included: 1) to restore the failed stream bank that was threatening the integrity of the cabin, 2) to repair and restore the stream to optimal habitat for trout, 3) to re-establish healthy fish and insect (food) populations, 4) to improve access for disabled anglers and construct an access trail running the full length of the restored stream, 5) to document the as-built conditions of the restoration efforts, and 6) to monitor the stream over time to better understand which restoration practices deployed were the most effective.
Following a detailed assessment, planning, and design process, the P4 restoration team began their work. By August of 2019, the failing banks had been restored and the cabin had been stabilized, more than 22 fish habitat enhancement and bank erosion structures had been built, and an ideal habitat for trout and other fish species had been created. The RedTail LiDAR System would now be used to document the as-built conditions of the stream repairs and monitor its long-term health.
The RTL-400 Flight:
In December 2019, the Clover Run trout stream corridor was flown with the RedTail LiDAR System's RTL-400 to document the as-built condition of the stream, creating a highly accurate, high-resolution 3D map (point cloud) of the area. The stream was mapped in a single 20-minute flight, at an altitude of 262 feet, and at a speed of 18 mph.
To monitor the health of the stream and measure the efficacy of the structures installed, the Clover Run stream will be flown once a year with the RTL-400, providing the same highly accurate, high-resolution 3D imagery for comparison.
Benefits of the RTL-400 to the Project:
Designed specifically for use on small drones, the RTL-400 was developed with technology licensed from the U.S. Army Research Laboratory (ARL) and engineered to provide high-resolution 3D images of objects on the ground, flying at an altitude of up to 400 feet.
The RTL-400 incorporates an innovative microelectromechanical system (MEMS) mirror-based laser scanner that rapidly and evenly distributes all laser pulses to the ground, moving side-to-side 400 times per second. Combined with a laser pulse rate of up to 400,000 pulses per second, and an optimized scan angle of 35 degrees, the point cloud images that are generated are unprecedented in resolution and density.
Utilizing the RTL-400 3D LiDAR mapping system for the Clover Run project provided several benefits over traditional surveying and assessment methods, including:
Collection of high-resolution, highly accurate data in a single flight
Reduced risk to personnel in rugged environments
Reduction of data collection and processing time
Improved overall ROI
The RedTail LiDAR System's RTL-400 is the ideal 3D laser mapping tool for your next stream restoration and monitoring project. Visit us online at www.redtaillidar.com to learn more.
About Patriots 4:
Patriots 4 (P4), is a non-profit organization committed to supporting valiant combat wounded service members and their families with assistance and facilities to enjoy well deserved R&R in our great outdoors. Learn more at http://www.patriotsfour.org
About RedTail LiDAR Systems:
RedTail LiDAR Systems is a division of 4D Tech Solutions, Inc., a company focused on providing innovative technology-based solutions to address government and commercial customer needs. RedTail LiDAR System's in-house technical expertise – coupled with a full suite of software and hardware design and manufacturing tools – allows us to develop custom LiDAR solutions for manned and unmanned vehicle applications. 4D Tech Solutions, Inc. is a Service-Disabled Veteran-Owned, HUBZone-certified small business.
For more information contact:
Bryson Begley, Marketing Manager, RedTail LiDAR Systems
bbegley@redtaillidar.com
(304) 306-2396
www.redtaillidar.com