Remote Sensing of South Sudan's Civil War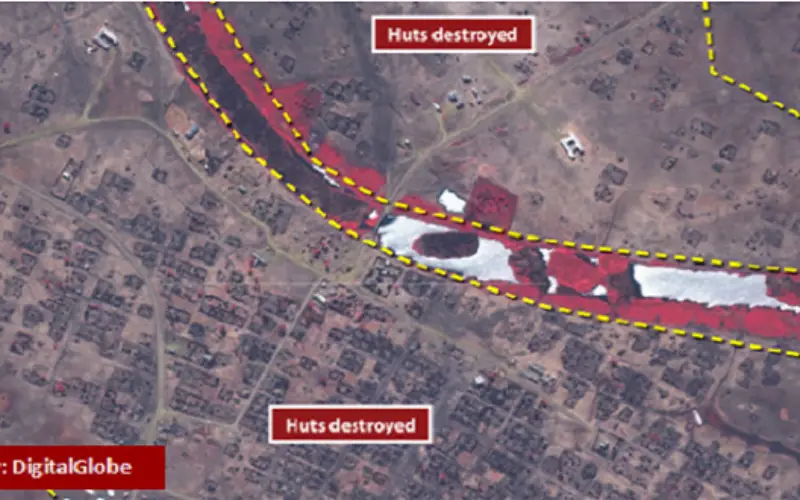 Recently a report is published by the Satellite Sentinel Project on the civil war in South Sudan and its impact on civilians. The conflict is estimated to affect a total of 1.4 million people, and to have displaced over 200,000 people.
The conflict started as a dispute over the oil-rich region of Abyei between the Army of Sudan and Sudan People's Liberation Movement-North (SPLM-N), in the months leading up to South Sudanese independence. It has been more than three years since ethnic violence in the region and has gained international attention. The violent conditions in the world's newest country seem to be unraveling and engulfed in an ever-expanding civil war. The harsh conditions on the ground make it really dangerous and difficult for reporting and accounting of war damage.
In this report by Satellite Sentinel Project supplements the reporting on the South Sudan's civil war with the use of satellite remote sensing. Satellite imagery provided by DigitalGlobe in partnership with the Enough Project showcase the widespread destruction to the city of the South Sudan civil life.
The satellite imagery of Mayom and Bor, captured from 300 miles above the earth offers and easier and safe mode of reporting as well as an independent source to confirm the scale of the civil war. These imageries provide various evidence of civil damage. Satellite images show that UN bases in both Bor and Bentiu are crowded with displaced people. Images of Mayom show people are fleeing in groups to refugee camps.
The town of Mayom is located in strategically important and oil rich Unity state. Approximately 175,000people live in Mayom. Civilians are fleeing because of increasing violence and many of them found refuge in the United Nations Mission in the Republic of South Sudan (UNMISS) compound in Bentiu. With the fought between SPLM-N and government soldiers results in the bloody battles and have ruined the town. Satellite imagery captured on January 10 shows the large destruction of civil place of abode in Mayom since December 11, 2013 (Figure 1 and Figure 3).
The increase in the population sheltering in Bentiu compound of the UN was noted between December 30, 2013 and January 6, 2014 (Figure 6).
The city of Bor remains at significant risk for continuing violence as the government has pledged to regain control of the area. The Government forces were marching towards Bor and SPLM-N rebels are retreating back. The satellite imagery of village of Mogiri, shows evidence of extensive destruction. At least 30 intentionally burned structures are visible in the imagery of the village. (Figure  7)
The town of Bor has faced significant damage and destruction in late December 2013, when the town exchanged hands twice between SPLM-N and government soldiers. Bor's main market shows visible damage to at least 16 buildings. At least three buildings were severely damaged between December 25, 2103 and January 8, 2014. (Figure  8).
Later the satellite imagery shows evidence of massive destruction where ten buildings were destroyed in the two days in the time period of January 8, 2014 to January 10, 2014. (Figure 9)
As a result of the serious damage, civilians in Bor sought refuge in the UNMISS compound in the town, while others fled south to Juba or across the river to Aweriel in the state of Lakes.
 According to United Nations Development Programme (UNDP), some 63,000 civilians have now sought refuge in United Nations bases in South Sudan as the UN peacekeeping mission there moves to reinforce its strength with troops and helicopters in the face of a conflict that has killed thousands and driven at least 122,000 others from their homes in the past 12 days.
Satellite Sentinel Project Co-Founder, George Clooney, said "Evidence of atrocities against civilians should be collected and used for future prosecution for war crimes. There will be no peace if massive human rights abuses can be committed with no accountability. This time in South Sudan there needs to be an end to impunity."
Satellite can play an important role in monitoring the present situation as well as in making better decision such as deployment of soldiers to a strategically important place as well as real time analysis of troop movements rather than document abuses after they happen. By combining information from citizen journalists and satellite imagery the world can be alert of an attack on civilians before the boots come in action.