SI Imaging Services Signs MoU with Luciad NV in Belgiumand G-Ros in Korea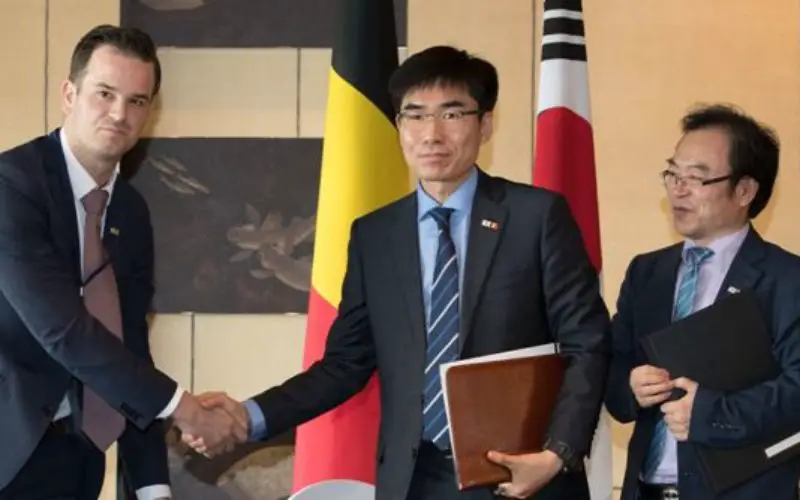 On June 14th at the Grand Hyatte Seoul, the SI Imaging Services has signed a Memorandum of Understanding (MoU) with the Luciad NV in Belgium and its certified reseller in Korea G-Ros Co., with the goal of cooperating on offering a joint solution using KOMPSAT data.
SI Imaging Services a leading provider of VHR satellite imagery especially representative of KOMPSAT series and Luciad NV is the provider of Luciad software which is geospatial software platform specialized in Defense, safety and security, aviation, maritime and utilities and logistics area. The G-Ros is a certified reseller of Luciad in Korea and also technical partner with SIIS.
This MoU means great cooperation between Korea and Belgium and with this agreement, Luciad will enrich its capacity to offer a value-added product of KOMPSAT to customer through Luciad-based data management, visualization and analytics system.
The KOMPSAT (Korean Multi-Purpose Satellite) program is a part of the Korean government's space development program, which provides very high-resolution satellite imagery to the global remote sensing community. Since the first launch (KOMPSAT-1, 6.6m optical) in 1999, resolution has improved to 40 cm (KOMPSAT-3A), and coverage now also includes X-band SAR satellite imagery.
The KOMPSAT 3A offers at 40-centimeter resolution imagery for a variety of purposes such as mapping, monitoring infrastructure, agricultural purpose, managing natural resources etc, And KOMPSAT-5 offers very high-resolution SAR imagery up to 85 centimeters for change detection without weather condition.
About SI Imaging Services
SI Imaging Services is the exclusive worldwide marketing and sales representative of KOMPSAT series KOMPSAT-2, KOMPSAT-3, KOMPSAT-3A and KOMPSAT-5.
SIIS contributes Remote Sensing and Earth Observation industries societies by providing very high resolution optical and SAR images through over 90 sales partners worldwide.
Customers from industries as well as government and international agencies are using KOMPSAT imagery for their missions and researchers and achieve good results in several remote sensing applications such as mapping, agriculture, disaster management, and so on. SIIS started its business as a satellite image and service provider and extended its business to KOMPSAT operation. Learn more at http://www.si-imaging.com/
About Luciad NV
Founded in 1999, Luciad has grown from a start-up to a global-facing company with offices in the US, Belgium, France, Germany, Mexico, Singapore, Spain and Turkey and works with leading organizations such as Airbus Defence and Space, Lufthansa Systems, NATO, Lockheed Martin and Thales.
Luciad deliver geospatial software solutions that power the world's mission critical operations.
Our APIs provide developers with advanced visual analytics that allow them to unlock the potential of real time location intelligence and create the foundations for next generation geospatial systems.
From safeguarding critical assets to creating the digital infrastructure for smart cities, we help users implement intuitive command and control systems. Our customers depend on Luciad for high performance visualization that allows them to implement scalable solutions.
"Connect, visualize, analyze, act" is both our method and our motto.
Learn more athttp://www.luciad.com/
About G-Ros
G-ros Co. has been provisioning Satellite/Aerial/UAV data and Digital Mapping/Consulting services with the belief of "We Show You abetter world". Our staff are uniquely experienced in RS/GIS and are willing to help clients from resourcing data to processing, analyzing, visualizing and making optimal decisions. We are willing to share our knowledge, resources, best practices combined by very high resolution KOMPSAT series data and creative LUCIAD-aided Solutions for powerful visualization.
Learn more athttp://www.gros.co.kr