Supergeo to Release Forest Inventory App for Android Users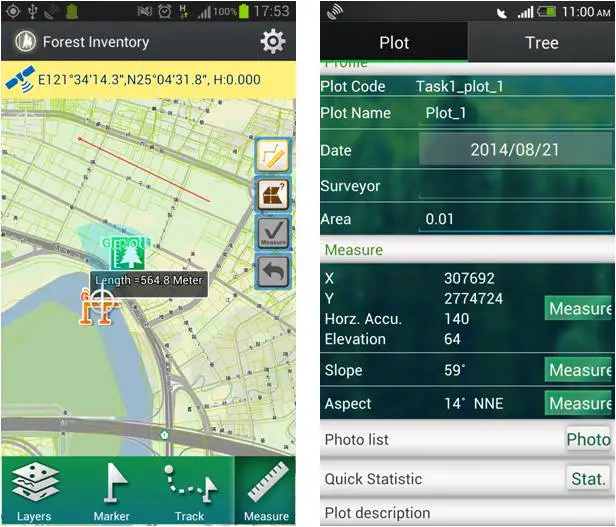 Forest Inventory App, an Android app designed for forest information collection, developed by Supergeo, will be released to provide forest investigators with a professional and handy tool for field survey and data recording in forests. With this App, natural resource managers can quickly record the required information during field survey and improve task efficiency.
Integrating with GIS and GPS technologies, Forest Inventory App supports forest investigators to create sample plot codes and names according to different requirements and survey sample plot location, slope and slope aspects. The plot-related information can be recorded, added, edited and exported; the parameters of sample trees can also be recorded in text, number or options in the drop-down menu in a convenient way.
For efficient data management, foresters can build task folders to save all relevant data including markers, point data of photos, tracks, sample plots, sample trees and so forth. The managing way via projects is beneficial for effective data management, evolving a new work process than traditional paper work and personal judgment.
To assist forest investigators in surveying location of sample plot more precisely, Forest Inventory App enables investigators to record tracks with GPS and display the track on the map directly. The track data can be saved as SHP and KML file to supply routes for more field survey tasks as references.
According to the Product Team of Supergeo, the special app for foresters is going to be released in Q4 2014 and will be firstly showcased during INTERGEO 2014 in Berlin, Germany. Check Forestry Inventory App at Booth A3.033, Hall 3.1. For more information, please visit www.supergeotek.com.
#  #  #
About Supergeo
Supergeo Technologies Inc. is a leading global provider of GIS software and solutions. Since the establishment, Supergeo has been dedicated to providing state-of-the-art geospatial technologies and comprehensive services for customers around the world. It is our vision to help users utilize geospatial technologies to create a better world.
Supergeo software and applications have been spread over the world to be the backbone of the world's mapping and spatial analysis. Supergeo is the professional GIS vendor, providing GIS-related users with complete GIS solutions for desktop, mobile, server, and Internet platforms.
Marketing Contact:
Patty Chen
Supergeo Technologies Inc.
5F, No. 71, Sec. 1, Zhouzi St., Taipei, 114, TAIWAN
TEL:+886-2-2659 1899
Website: http://www.supergeotek.com
Email: patty@supergeotek.com