Tag at Hot Tourist Spots with GIS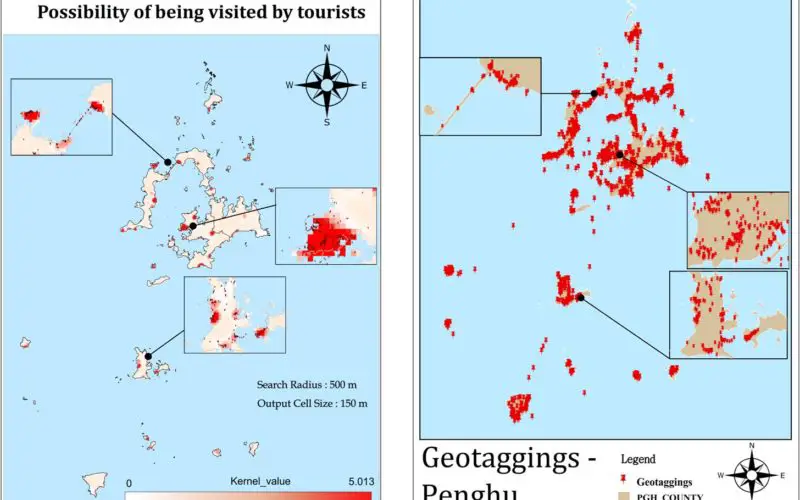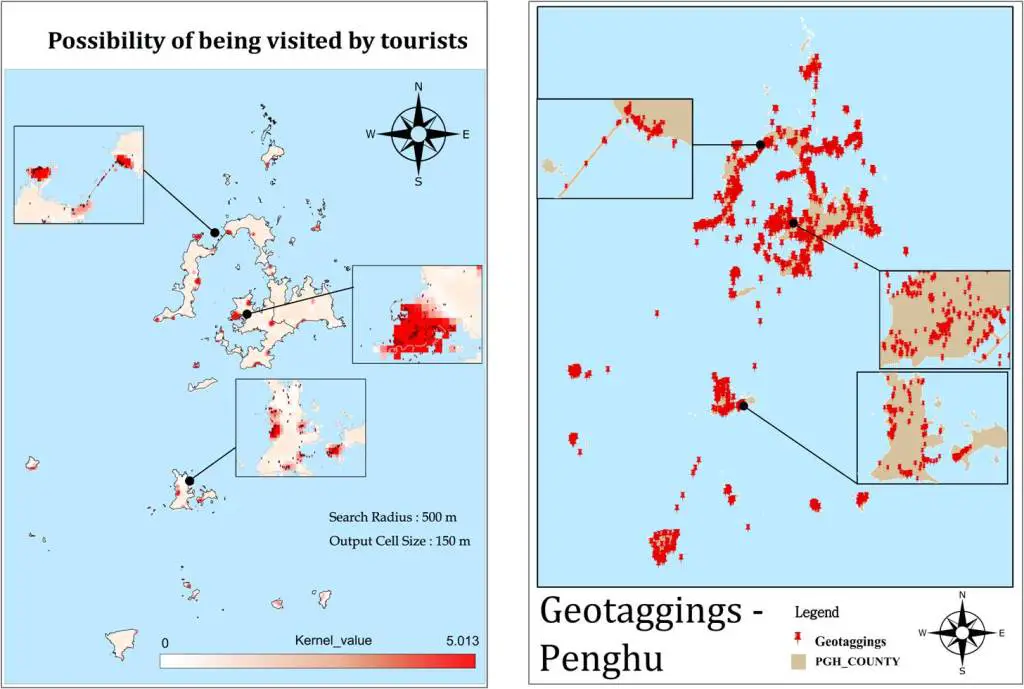 Tourism management is highly relevant with locations, so GIS is useful to find out better solutions. However, traditional research consumes a lot of time on data collecting, and is limited to sample amounts. With modern technologies, photos can be taken with coordinate info, and GIS can help researchers effectively analyze tourist hot spots in an easy-to-understand way.
Researchers gather public photos of Penghu Islands, a famous tourist place in Taiwan, from the well-known photo-sharing website, flickr, which provides numerous geotagging photos of tourist attractions. With these geotagged photos, users can add XY data and establish a point layer in SuperGIS Desktop, so that the visitor distributions can be visualized on the maps.
With the point layer, tourism managers can utilize Kernel Density function in SuperGIS Spatial Analyst to accurately get the hot spot distributions. The search radius is set as 500m, as it is the average walking distance of single attraction for most tourists. And then, users can use Multi Map Frame tool to display all the key areas clearly on the map, so that managers can investigate and comprehend the region at a glance.
The GIS-powered hot spot analysis shows positive correlation with traditional paper survey results, which not only means the GIS solution is reliable, but also shows a better way for future plans. With GIS, tourist managers can easily understand the popular attractions. Furthermore, GIS can further plan transportation routes with Shortest Routes or Service Area functions, to select a proper location for information center, restrooms and other facilities.
Explore the Tourism-wise GIS functions, download SuperGIS Desktop free trial: http://www.supergeotek.com/download_6_desktop.aspx
Learn more about the case: http://www.supergeotek.com/Library_2_201411.aspx
#  #  #
About Supergeo
Supergeo Technologies Inc. is a leading global provider of GIS software and solutions. Since the establishment, Supergeo has been dedicated to providing state-of-the-art geospatial technologies and comprehensive services for customers around the world. It is our vision to help users utilize geospatial technologies to create a better world.
Supergeo software and applications have been spread over the world to be the backbone of the world's mapping and spatial analysis. Supergeo is the professional GIS vendor, providing GIS-related users with complete GIS solutions for desktop, mobile, server, and Internet platforms.
Marketing Contact:
Patty Chen
Supergeo Technologies Inc.
5F, No. 71, Sec. 1, Zhouzi St., Taipei, 114, TAIWAN
TEL:+886-2-2659 1899
Website: http://www.supergeotek.com
Email: patty@supergeotek.com