USCG Invites Public Comments on Nationwide Differential Global Positioning System (NDGPS)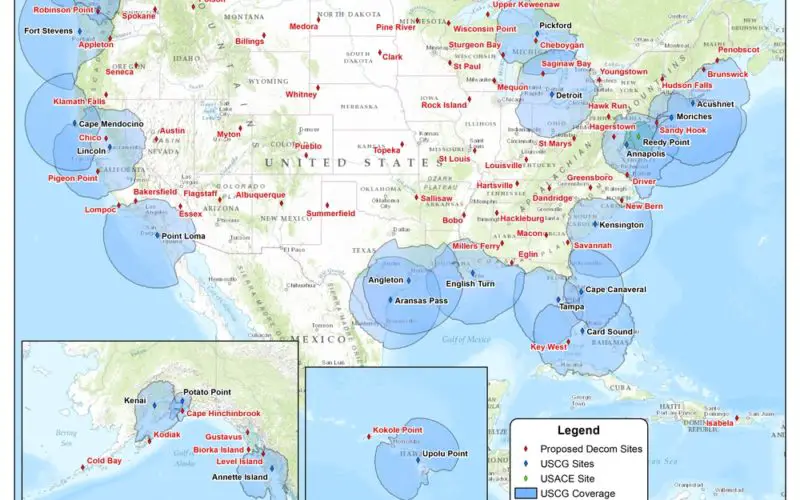 In a notice by the United States Coast Guard, the Transportation Department, and the Engineers Corps  dated 08/18/2015, public comments are requested on Nationwide Differential Global Positioning System (NDGPS).
The Coast Guard (USCG) began development of the Maritime Differential Global Positioning System (MDGPS) in the late 1980s. In 1997, the Department of Transportation and Related Agencies Appropriations Act of 1998 authorized the implementation of the inland component of the system. As a result, 29 additional inland sites were added to the network. These sites, along with seven sites provided by the U.S. Army Corps of Engineers, became known as Nationwide DGPS (NDGPS). The USCG was designated as lead for implementation, operation, and maintenance of the service.
The Nationwide Differential Global Positioning System (NDGPS) service augments GPS by providing increased accuracy and integrity using land-based reference stations to transmit correction messages over radiobeacon frequencies.
However, a number of factors have contributed to the declining use of NDGPS. Such as USCG changes in policy to allow aids to navigation (ATON) to be positioned with a GPS receiver using Receiver Autonomous Integrity Monitoring (RAIM), which assesses the integrity of a GPS signal within the receiver.
Based on an assessment by the Department of Homeland Security (DHS), DOT, and USACE, DHS, DOT, and USACE are proposing to shutdown and decommission 62 DGPS sites, which will leave 22 operational sites available to users in coastal areas. This notice seeks public comments on the shutdown and decommissioning of a total of 62 DGPS sites. Termination of the NDGPS broadcast at these sites is planned to occur on January 15, 2016.
You may submit comments and related material regarding this proposed action. All comments received will be posted, without change, to http://www.regulations.gov and will include any personal information you have provide.
– Read more at https://goo.gl/VRdXhs