Webinar: Collector vs. Custom: Making the "Right" Choice for your Mobile Data Collection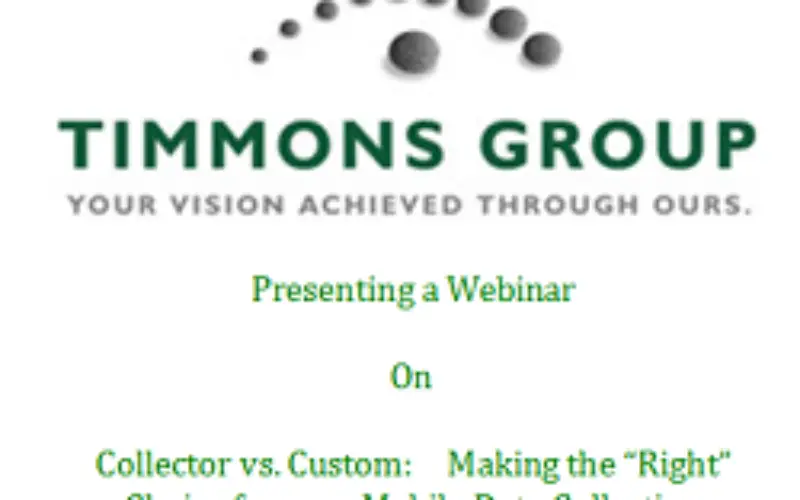 Timmons Group, a leader in enterprise geospatial products and services, is pleased to announce an upcoming webinar focusing on implementing a custom field data collection solution. The webinar will be held on November 6th, from 2 p.m. to 3 p.m. EST.  Join Chris Gerecke, Director of Enterprise Solutions, and Matt McCracken, Project Manager, from Timmons Group to discuss pros and cons of implementing a custom solution and using a commercial off-the-shelf (COTS) solution such as Collector for ArcGIS.
Field data collection is being automated everywhere. From basic form data collection to asset inventory and inspection, tablets and smartphones are replacing paper-based and antiquated manual field data collection processes.  Making the decision on how to implement a field data collection solution with a COTS product (like Collector for ArcGIS) or a custom solution is often driven by technology or "feature-driven decisions" (aka "shiny object syndrome").   This webinar will focus on techniques to understand your users and their requirements to ensure that the mobile technology choice made is increasing efficiency in the field and presenting the greatest possible return on investment (ROI).
Are you struggling to decide between going with a custom field data collection solution or using ArcGIS for Collector or another commercial off-the-shelf (COTS) product?  Do you have a clear vision and requirements from the end-user perspective to enable you to make that decision?  Do you understand the pros and cons for each solution?  Chris and Matt will address these questions and offer the attendees of this webinar a clearer path to making the right decision for their organization.
To register for the webinar, please visit www.timmonsgis.com.
About Timmons Group
Timmons Group is a leading provider of geospatial, information architecture and engineering services focusing on developing intuitive, enterprise geospatial web applications, highly-usable, cross-device mobile applications, and integrated, geospatially-enabled enterprise solutions. Timmons Group develops innovative solutions across multiple platforms, including web, web-based mobile / HTML5, and native mobile operating systems.  Timmons Group is a privately held ENR 500 company and maintains a strong business partner relationship with Esri. Timmons Group has been a recipient of both the Esri Business Partner of the Year award and the Esri Foundation Partner of the Year award. For more information, visit www.timmonsgis.com.