MAPAZONIA – A Crowdsourced Project to Map the Amazon
The Amazon rainforest also known in English as Amazonia or the Amazon Jungle covers most of the Amazon Basin of South America. This region includes territory belonging to nine countries: Brazil, Bolivia, peru, Ecuadoe, Colombia, Venezuela, Guyana, and Suriname, as well as French Guiana. This Amazon basin encompasses 7,000,000 square kilometres (2,700,000 sq mi), of which 5,500,000 square kilometres (2,100,000 sq mi) are covered by the rainforest.
The Amazon represents over half of the planet's remaining rainforests, and comprises the largest and most biodiversity tract of tropical rainforest in the world, with an estimated 390 billion individual trees divided into 16,000 species.
The Amazon has a long history of human settlement, but in recent decades due to an increase in human population, the introduction of mechanized agriculture, and integration of the Amazon region into the global economy had substantial impacts on the Amazon. The needs of maps and charts for navigation are almost necessary.
The project Mapazonia is an open project for crowdsource mapping the Amazon on OpenStreetMap. The project was an initiative of the OpenStreetMap Community with the objective to map the Amazon using local knowledge, official open data, aerial and satellite images and pushing ahead collaborative mapping of common areas and problems in the continent.
Where in the World? 

The initiative began to take shape in early October 2014 as part of the Second Regional Conference of open data AbreLatAm and ConDatos held in Mexico City.
The project will advance the coverage map by adding or updating the geometry of the rivers and lakes, roads and highways, and optionally the land use and land cover. Detailed cartography will help many organizations that are working in the Amazon to accomplish their objectives. Together we can collaborate to look after the Amazon and its inhabitants.
All data entered into OpenStreetMap is recorded in a central database managed by a Foundation OpenStreetMap where any person, group, company, or government can be displayed on the map, access, edit, and / or download a copy of all or part of planet under open standards. OpenStreetMap is not always need sophisticated equipment or tools and commercial maps, you can collaborate using from pen and paper to create a sketch, tweeting a note to the map, sharing photos under open licenses, adding points to the map from your mobile phone, GPS traces paths sharing, etc.
How to Start Collaborating:
For those who do not know, the OpenStreetMap community are volunteers + s of any part of a decentralized, diverse, self-managed, open and participatory try to map the planet and offer under open license data collected for the study, research, learning, entrepreneurship , self-management, even for commercial use.
OpenStreetMap community recommend going to a place where l + s partners meet and teach how to map in OpenStreetMap, contact us and we will recommend a place nearby. However following these simple steps you can begin to work:
Get an account on OpenStreetMap, if you're nuev + you must create an account by clicking here
Enter the website " OSM Tasking Manager " and click "Sign OpenStreetMap»
Choose a task created by Mapazonia (initially 826, 827, and 832)
Read the description and click on the button "Instructions"
Read the instructions that describe how to map and click on the button "Begin to contribute"
Click on the button "Take a random task" and have assigned a quadrant of the task. Remember, you have 120 minutes to complete, but will be unlocked and you must take it again
Choose an editor of your choice, if you're nuev + uses the iD Editor is simple and works in the browser
Begins to draw routes, areas, or add point for the task, and gives context to each item by completing the form
When you finish display do not forget to save your changes using the recommended text and a short description
Return to page OSM Tasking Manager and click on the button "Mark as done".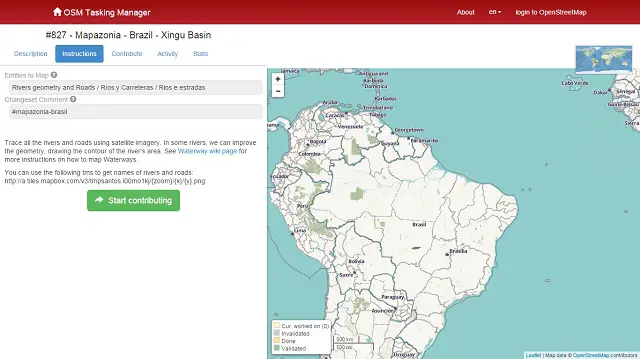 Changes to anyone who publishes on OpenStreetMap not need approval or filter of any kind, will be visible in a matter of 1-3 minutes. Use the arrow keys CTRL + F5 to refresh the page openstreetmap.org to watch. Want to see who are editing now, please click here .
More information is available at this blog post.
About OpenStreetMap:
OpenStreetMap is an editable map of the whole world, which is being built largely from scratch, and released with an open content license. The OpenStreetMap License allows free (or almost free) access to map images and all of underlying map data, and the project aims to promote new and interesting uses of this data.