2015 USGIF Scholarship Program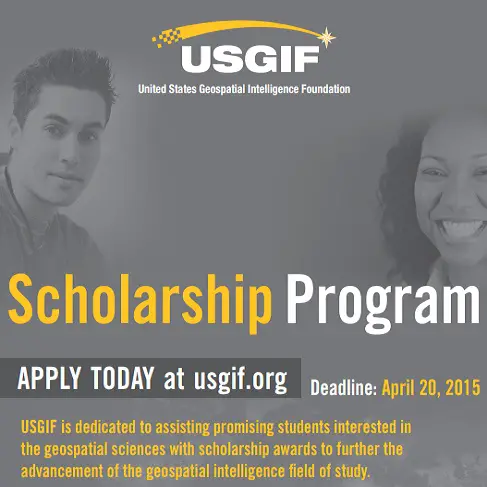 USGIF's purpose is to promote the geospatial intelligence tradecraft and to develop a stronger community of interest between government, industry, academia, professional organizations and individuals who share a mission focused around the development and application of geospatial intelligence to address national security objectives.
In an effort to help further the advancement of the geospatial tradecraft, USGIF is dedicated to assist promising students interested in the geospatial sciences with scholarship awards.
Graduating high school seniors, undergraduate, graduate and doctoral students can apply.
Scholarship recipients are chosen based on their academic and professional excellence in a field related to the geospatial intelligence tradecraft.
Students interested in using capabilities of geospatial science, data and technologies to address human security challenges are encouraged to submit their applications.
USGIF hopes to inspire students who are interested in all that GEOINT has to offer to invest their futures in this incredibly exciting and relevant field of study. The USGIF Scholarship Program has awarded $792,000 in scholarships since launching the program in 2004.
The Scholarship Program is partially funded by the annual Allder Golf Classic. Named in honor of the late William R. Allder Jr., the Allder Golf Classic raises money for the USGIF Scholarship Program.
How to Apply
Fill out the below application based on your level of education. Email the completed application and all supporting materials to scholarships@usgif.org.
Deadline for Submissions: April 20, 2015
Doctorate
Fill out the PDF or Word application.
Graduate
Fill out the PDF or Word application.
Undergraduate
Fill out the PDF or Word application.
Graduating High School Seniors
Fill out the PDF or Word application.